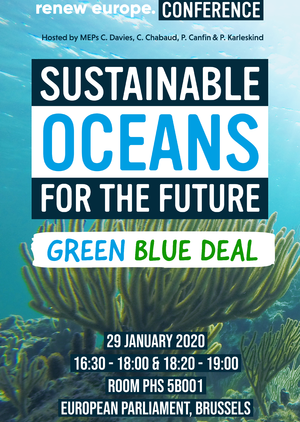 Centrepiece of the European Commission's plans for the next five years is the Green Deal. The Renew Europe Group wants this Green Deal to be tinged with blue – in order to address, among others, the concerns about overfishing, the warming of the oceans and the overall destruction of our marine ecosystem. It is against this background that Renew Europe will host the conference "Sustainable Oceans for the Future – Green Blue Deal" on Wednesday, the 29th of January, in the European Parliament in Brussels. The event will bring together Members of the European Parliament and the European Commission, experts and scientists to discuss these challenges and how to ensure that the Green Deal is tinged with blue.
Wednesday 29th January
(16:30 - 18.00 - coffee break - 18:20 19:00 - Cocktail reception as of 19:00)
MODERATOR: Pascal Canfin MEP, Chair of committee for Environment, Public Health and Food safety
16:30-16:40 Keynote speech: a new deal for Ocean? State of play
Virginijus Sinkevičius, EU Commissioner for Environment, Oceans and Fisheries
MODERATOR: Catherine Chabaud MEP
16:40-17.00 Introductory remarks: Ocean and Climate change
Stress the need for an ocean strategy as an integral part of the EU's climate mitigation effort and the potential for social, environmental and economic policies.
Loreley Picourt, Advocacy and International relations, Ocean & Climate Platform
17:00 - 17:20 Fostering ocean knowledge for better policymaking
Accurate and well-fitted policies require enhancing our knowledge of the ocean, be it to strengthen stock assessment, biodiversity or data. The EU has to play a leading role with the launch of the UN ocean decade on marine knowledge.
Dr Thorkild Aarup

, Head of the Tsunami Unit, IOC Secretariat
MODERATOR: Pierre Karleskind MEP
17:20 - 17:40 From Sea to Fork: Strengthening sustainability in fisheries
The green deal needs to include the fishery sector in its sustainability strategy to improve selectivity, traceability as well as economic development and valorization of the sector
Didier Gascuel, Professor and director of Fisheries and Aquatic Sciences Center (confirmed)
MODERATOR: Chris Davies MEP, Chair of the Fisheries committee
17:40 - 18:00 Protecting and restoring marine ecosystems for healthy oceans
Ocean need to be addressed from a holistic and ecosystemic approach, in order to understand global threats, challenges but also opportunity offered by its rich resources. Restauration and protection of marine biodiversity is key to healthy oceans
Joachim Claudet, Chair of scientific committee of the Ocean climate platform
18.00 - 18.20 Coffee Break
MODERATOR: Gesine Meißner, Member of the European Commission's Mission Board for 'Healthy Oceans, Seas, Coastal and Inland Waters', former MEP)
18:20 - 18:35 The EU as a leader on ocean governance
The EU is the first maritime space in the world and a leading ocean strategy can help heighten its leadership on the international stage, putting it at the forefront of ocean governance, geopolitical consideration and security issues with reference to the EU agenda on ocean governance the Lisbon conference in 2020 and the ocean treaty
Pierre Strosser, Director of Acteon
MODERATOR: Chris Davies MEP, Chair of the Fisheries committee
18:35 - 18:50 Questions & Answers
18:55-19:00 Concluding remarks and presentation of the RENEW chart for the oceans
Cocktail reception