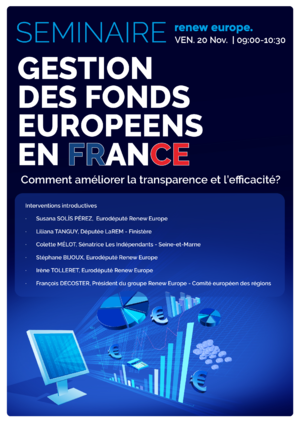 On November 20, 20020, a Renew Europe seminar on the efficiency and communication of EU funds in France took place. MEPs Susana Solis, Irène Tolleret, Stéphane Bijoux and French MPs Liliana Tanguy and Colette Mélot, as well as Renew Europe group's chair in the Committee of Regions François Decoster shared their perceptions and analysis with an assembly of locally elected representatives.
While France's use of EU funds is in the EU average, the perception of French stakeholders, and in particular locally elected representatives, seems to differ : they often mention complexity, red-tape, communication hurdles… How can one explain this difference and how can we address this issue, when a new programmation and the recovery plan are soon to be implemented on French territories?
Susana Solis, [click here to view the video] MEP and member of REGI committee, firstly presented the organisational changes and in particular the procedures simplification of the upcoming EU funds programmation.
Member of the National Assembly Liliana Tanguy and member of the Senate Colette Mélot [click here to watch the video], who both authored reports on the efficiency of EU funds in France, detailed the hearings they conducted with various stakeholders. They insisted on the necessary improvement of governance and the importance of an enhanced visibility of funds.
Stéphane Bijoux, MEP and member of REGI committee, [click here to watch the video] defended flexibility and adaptability of EU funds. Mentioning the example of overseas territories, he noted that EU funds axis could match a specific need.
MEP Irène Tolleret [click here to watch the video] introduced the LEADER case in Occitanie. She recalled that anticipation of formalities and dossiers and the early identification of projects leaders were essential to the successful implementation of this fund.
As a conclusion, François Decoster [click here to watch the video], chair of the Renew Europe group in the Committee of Region and member of the regional assembly of Hauts-de-France, presented a brief panorama of the existing management systems in the EU. He also introduced the good practices of his region.
The event ended with a discussion of over one hour with locally elected people.