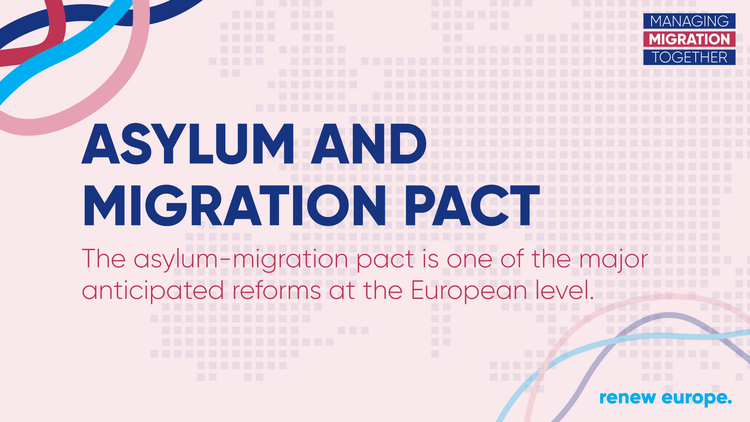 What is the Migration and Asylum Pact?
1. Solidarity and Responsibility: The Pact aims to establish a balance between solidarity and responsibility among European Union member states in the management of migration. A mandatory solidarity mechanism for all Member States must be established in the event of migration pressure or crisis
2. Fast Asylum Procedures: The Pact proposes the implementation of faster asylum procedures to expedite the processing of requests and reduce delays. A simpler and harmonized procedure will allow asylum seekers to be treated in the same manner throughout the European Union.
3. Enhancement of External Borders: The Pact proposes measures to strengthen the external borders of the European Union, including with the operational support from Frontex, our Border and Coast Guard Agency.
4. Preparedness for crisis: We must provide Member States on the frontline with concrete tools to handle crises, to finally replace ad hoc solutions with a permanent solidarity mechanism between the Member States and a strong crisis management system.


Other crucial Pillars in Reforming the EU's Asylum and Migration System
1. Return: More effective return mechanisms should be established for individuals whose asylum requests had been rejected.
2. Resettlement: We must create safe legal pathway from third countries to the European Union Member States for vulnerable persons stand to benefit from the international protection.
We must rapidly finish reforming the EU's Migration & Asylum system!

All parts of the reform must be agreed by the end of the mandate,🇪🇺 citizens count on us!

At our request, @Europarl_EN will now debate the need to quickly adopt the #MigrationAsylumPact👇

— Renew Europe (@RenewEurope) October 4, 2023
Finalizing and implementing the Migration and Asylum Pact before the term ends is extremely crucial. We need an agreement between the European Parliament and the Council on all parts of the Pact. European citizens expect us to deliver solutions to the challenges of migration, especially in times of crisis. We cannot let them down. That is why we must use this momentum to reach a deal for (an agreement on) better-managed borders and greater solidarity before the end of this mandate.
The Renew Europe group in the European Parliament is pleased with the recent progress made in the Council regarding the Crisis regulation. This is a crucial development that brings us closer to completing the Migration and Asylum Pact before the mandate concludes. The informal agreement reached by EU Ambassadors during their meeting today is a significant milestone, as it clears the path for the Council to take a stance.
This breakthrough means that negotiations between different institutions on all the regulations outlined in the Pact can now officially begin.