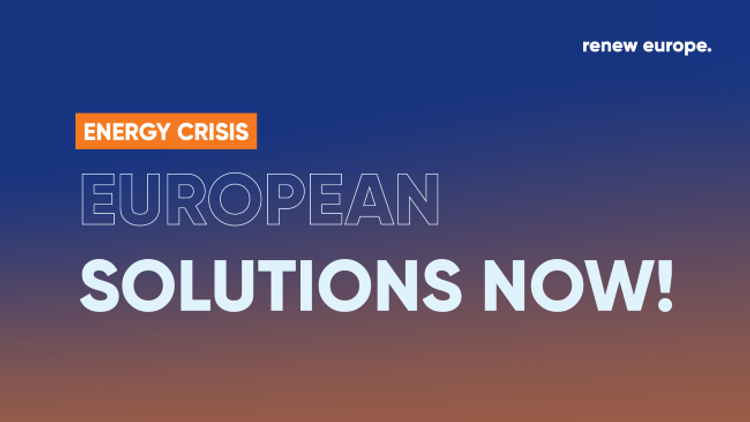 These are turbulent times for global and European energy markets. Russia's war in Ukraine has caused a massive rise in energy prices. The EU must do everything in its power to ensure supply of affordable and clean energy for the times ahead. We must protect our citizens, businesses and vulnerable households by aiding them in the energy crisis. Thus, we need energy independence from Russia and reform of the energy market to secure the well-being of our citizens and sustainability of the energy sector.

Putin's obscene invasion of Ukraine has led to spiralling energy prices.

We want urgent action to protect business and consumers! We ask for a European shield to reform the market & protect our economy.

We are stronger together tackling the #EnergyCrisis 🇪🇺 pic.twitter.com/SqGMD6W8fm

— Renew Europe (@RenewEurope) August 30, 2022
We need to mitigate the impact of rising energy prices on European households and companies, boosting the market's efficiency and competitiveness, while ensuring that European consumers can make affordable and more sustainable choices. At the same time, it is essential that Member States coordinate their actions in order to ensure that the integrity of the Single Market is not jeopardised.


We will not abandon households & businesses, who are faced with extreme #energy costs due to Putin's blackmail & his war against 🇺🇦

We outline our plan to provide a 🇪🇺 energy shield that tackles #ClimateChange & delivers autonomy. EU Governments must agree on a bold EU response! pic.twitter.com/UyCFp8QMsk

— Renew Europe (@RenewEurope) September 8, 2022
Renew Europe has a sound plan to tackle the energy crisis:

Windfall tax mechanism to redirect the profits from big energy players to consumers and companies, especially small businesses.
Joint procurement of energy sources in order to strengthen EU bargaining power. This would allow exchanging surpluses and increasing solidarity between European nations.
A price cap on gas imports.
Speed up investments in renewable energy, energy efficiency and necessary infrastructures to achieve EU energy sovereignty, open strategic autonomy and energy security. We need to secure at least 45% of renewables in the overall energy mix by the end of the decade. We must be the first continent to leave fossil fuels behind.
Reduce demand and improve energy efficiency. This will lower CO2 gas emissions, reducing demand for energy imports, and lowering the costs on a household and economy-wide level
🚨 BREAKING: @Europarl_EN adopted our demands for more ambitious measures to tackle the energy crisis.

We call on EU leaders to heed Parliament's proposals & choose 🇪🇺 solutions to support citizens & businesses! #EUCO

— Renew Europe (@RenewEurope) October 5, 2022
Energy independence
We need an Energy Union that is independent from Russian gas, oil and coal, as soon as possible. It is necessary to avoid an indirect financing of the war but also to secure Europe's energy supply and thus become more resilient to outside threats. Europe should achieve full security of energy supply, its diversification and independence, by working on both demand and supply, aiming at full independence from Russian fossil fuels no later than 2027.
Reforming the energy market and investing in renewable energy means new jobs for people and growth for the economy. We will be able to tackle the climate change emergency while also securing energy independence, providing clean and affordable energy to all our citizens.

Our plan proposes the creation of a European '#EnergyShield' to tackle energy poverty & safeguard the European economy.

Coordinated action at 🇪🇺 level can reduce energy prices & deliver a greener future. Putin's weaponisation of #energy markets must fail! pic.twitter.com/o28KkDymrB

— Renew Europe (@RenewEurope) September 8, 2022