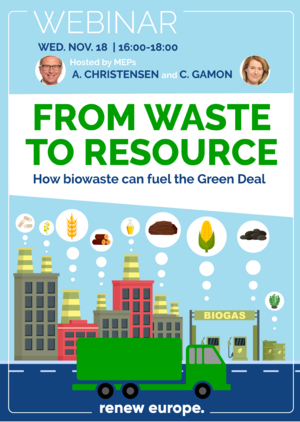 Waste can be a valuable resource. The benefits or applying the circular economy to bio-waste are, to mention a few: job creation, soil protection and improvement, resource savings, greenhouse gas emissions reductions and increase in renewable energy. With a proper framework in place, recovery of bio-waste will make the EU more resource-efficient.
This event will highlight the ways circular economy through the recovery of bio-waste can contribute to EU reaching the Green Deal goals. It will gather analysts, policy experts, academic experts, businesses and government representatives to give their views and insights.
A key use for biowaste is biogas, which can be a flexible and sustainable source of renewable energy. In many places in Europe, the full potential is still not being used. Biogas is a way to both provide new sustainable alternatives to sectors like agriculture and transport, and to include them in the circular economy.
MEP Asger Christensen and MEP Claudia Gamon
Daan Peters, Director (Energy, Sustainability, and Infrastructure) at Guidehouse consultancy - contributor to the Gas for Climate consortium
Trends in bioenergy from biowaste
Almut Reichel, Sustainable Resource Use and Waste Expert, European Environment Agency
Biowaste management in Europe - challenges and opportunities
Ole Hvelplund, CEO Nature Energy (Danish energy company specialised in biogas from biowaste)
The practical use of bio-waste, and the potential of bioenergy production from waste
Lasse Rosendahl, Professor from the University of Aalborg, Denmark.
Perspectives on sustainable fuel for the transport sector, in particular aviation, maritime and heavy vehicles.
Florian Marko, Policy Officer, Austrian Federal Ministry for Climate Action, Environment, Energy, Mobility, Innovation and Technology
Biowaste valorisation: national approach for biogas in energy and climate strategies.