New European Bauhaus: Unleashing the potential of the circular economy across Europe
The New European Bauhaus (NEB) is an industrial, environmental, economic and cultural project of the European Commission.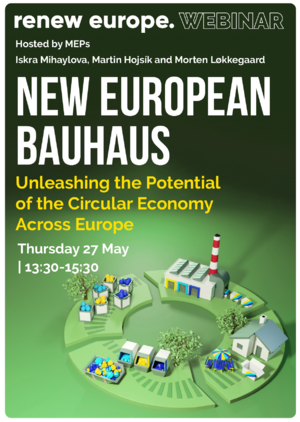 The New European Bauhaus (NEB) is an industrial, environmental, economic and cultural project of the European Commission. Through a combination of design, sustainability, affordability and investment, it aims to reach the goals of zero carbon emissions as soon as possible and most effectively across the European Union. The NEB proposes a new way of thinking on how to build our future life in the light of climate change, the digital transformation, and scientific developments. Such an approach is particularly urgent in the face of the new reality and challenges brought about by COVID-19.
This webinar proposes a dialogue intertwining the many topics covered in the NEB. It will bring together perspectives from the European Commission, national experts, stakeholders from various Member States, and Renew Europe MEPs.
The NEB displays the human face of the European Green Deal. This webinar aims to promote the NEB and participate in its design phase through the co-creation process, by providing a platform and encouraging debate with stakeholders at local, regional and European level. The webinar will start a conversation to exchange best practices and share original ideas from across Europe.
In the dialogue, this webinar will explore:
Solutions to improve quality of life, such as building and renovating in an energy- and resource-efficient way through alternative construction methods that respect nature, and the application of creative architectural ideas which transform our spaces in a greener and more aesthetically-pleasing way.
Synergies with relevant European initiatives such as the European Green Deal, the Renovation Wave, and the Circular Economy.
Local perspectives - by involving in the dialogue different cities, municipalities and rural areas to hear their perspectives, this webinar will examine what their needs are and what challenges they face.
Opportunities to revive the cultural and creative sectors, which have been seriously affected by the ongoing health and economic crisis, in particular through digital technologies.
Examining the European Green Deal via the prism of culture - with a special focus on cultural heritage, the reconstruction and renovation of historic buildings, and the digitalisation of cultural heritage as a means to ensure its preservation and promotion.
The potential development of young people and the building of bridges between generations through the NEB.
Necessary actions from policy makers, such as prioritising policy objectives and coordinating investments.