Protecting Europe against emerging health threats
the case for an EU Health Emergency Preparedness & Response Authority (HERA)
The outbreak of the COVID-19 pandemic has led the EU to make an enormous progress on common health initiatives; joint advanced purchase agreements for vaccines, an ambitious EU4Health program and the health union package. The latest initiative is the launch of the EU Health Emergency and Preparedness & Response Authority (HERA). This webinar will explore what the role and function of HERA will be by looking into the following aspects;
- How will HERA provide a better response to the next pandemic?
- How will HERA contribute to a better preparedness & protection against the intentional release of cross border health threats?
- What best practices from around the world will the EU take into account?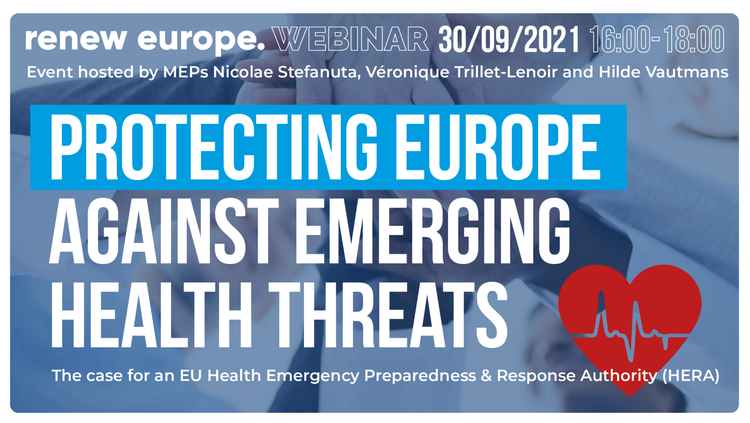 16:00-16:15 Welcome and introduction
MEPs Hilde VAUTMANS and Nicolae STEFĀNUTĀ
16:15-16:30 Enhancing EU health emergency preparedness through HERA
Sandra GALLINA, Director General, DG SANTE, European Commission
16:30-16:45 Preparedness, threat assessment and operational planning during a pandemic – a US perspective
Andrew WEBER, Senior Fellow at the Council on Strategic Risks' Janne E. Nolan Center on Strategic Weapons
16:45-17:00 Perspectives on bio-preparedness from a Member State - France
Antoine SCHWOERER, Advisor for Global Health and Security/Defence Preparedness of General director of Health French Ministry of Solidarity and Health
Head of International affairs at French health Crisis centre
17:00-17:15 HERA's impact on Europe's security & defence: CBRN resilience
Brig Gen (MD) Dr. med. Stefan KOWITZ, Director Multinational Medical Coordination Centre / European Medical Command MMCC/EMC
17:15-17:30 What does the European Parliament expect from HERA?
MEP Véronique TRILLET-LENOIR
17:30-17:45 Q&A
17:45-18.00 Conclusions
MEPs Hilde VAUTMANS, Nicolae STEFĀNUTĀ and Véronique TRILLET-LENOIR