EU building stock is responsible for 36% of the greenhouse gas emissions and 40% of the energy consumption in the EU. While up to 85-95% of today's building stock will be in use in 2050, as much as ¾ of EU buildings are energy non-efficient. In order to meet updated 2030 climate targets, the EU needs to reduce emissions coming from buildings by 60%, their final energy consumption by 14% and energy consumption of heating and cooling by 18%. To reach these targets renovation of existing buildings has to increase from current 1% of the stock to 2-3% annually.
The European Commission presented its proposal for the recast Energy Performance of Buildings Directive (EPBD) on 14th December 2021.
The focus of the webinar will be on the proposed legislation and how it addresses the challenges that exist: proper implementation, use of funds, the role of Member States and long term renovation strategies (LTSRs), reaching the climate targets.
To do so, this webinar aims to answer the following questions:
Is the Commission proposal addressing the current challenges?
What are the needs that have not been addressed?
Is the proposed legislation in line with meeting our climate targets?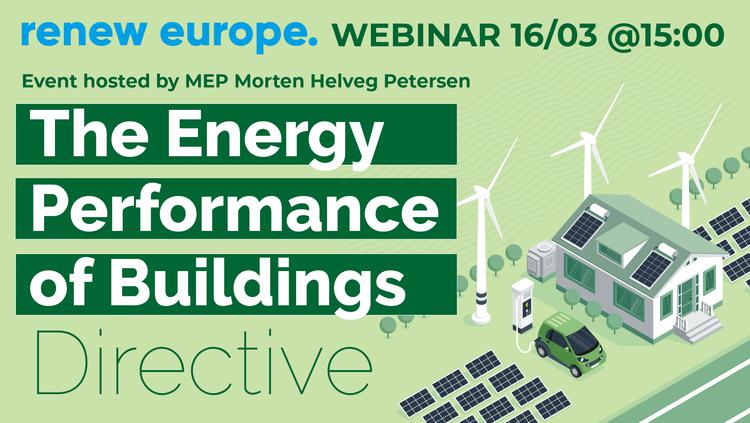 PROGRAMME
Interpretation EN-FR
15:00 - 15:05 - Welcome & Introduction remarks - MEP Morten Helveg Petersen
15:05 - 15:40 - Interventions from European Industry
Jürgen Fischer - President of Danfoss Climate Solutions and Chairman of EPEE
Ingrid Reumert - Vice President of External Relations & Sustainability, Velux
Bendt Bendtsen - Chairman of the Board, Synergi
Céline Carré - President of EuroACE (European Alliance of Companies for Energy Efficiency in Buildings)
Federica Sabbati - Secretary General, EHI (European Heating Industry)
Oliver Rapf - Executive Director of Brussels office, BPIE (Buildings Performance Institute Europe)
15:40-15:50 - Mechthild Wörsdörfer, Deputy Director-General, Coordination of the Just and Green Energy Transition, DG ENER, European Commission
15:50-16:25 - Panel discussion and Q&A with Renew Members and the public:
Topic: Proposal on the table - what works, what needs to be improved
Moderator: MEP Morten Helveg Petersen
16:25-16:30 - Concluding remarks, MEP Morten Helveg Petersen