EU's maritime emission reduction ambitions
how to make the shift efficiently, competitively and innovatively?
The maritime sector is at the brink of a major shift as the EU proposes a 75% reduction of emissions by 2050 as a part of the Fit for 55 "FuelEU Maritime regulation", which is heading to co-legislative process. Renew Europe wants to gather experts to discuss the impacts on climate and environment, EU´s global competitiveness and the operational capacities of the maritime sector.
Moreover, this webinar will allow RENEW EUROPE Group Members to exchange with the related stakeholders and also between themselves in order to reach a common understanding and position in view of the work on the respective Draft report and Draft Opinions.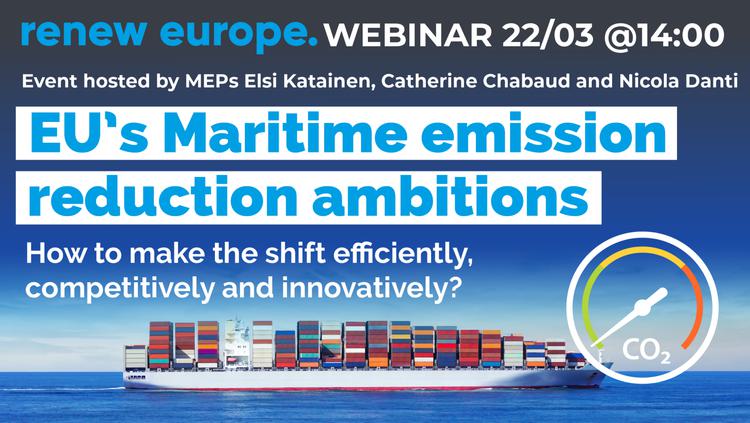 Event Agenda
Interpretation EN-FR-FIN
14:00 Welcoming speeches by MEPs Elsi Katainen, Catherine Chabaud and Nicola Danti
14:10 Panel I - Alternative fuels and Innovation - how to reduce emissions efficiently, competitively and innovatively?
Introduction, Annika Kroon, DG MOVE
How to unlock the potential of alternative fuels in maritime sector, Harmen Dekker, Director, European Biogas Association
Emerging solutions and innovations in maritime emission reductions, Benoît Loicq, Environment and Technical Director, The Shipyards' & Maritime Equipment Association of Europe
The pathway to decarbonising shipping, Viktor Borecky, Manager - Mobility Policy, Hydrogen Europe
Q&A
14:45 Panel II - Infrastructure and shore side electricity- how to build a coherent operational environment?
Introduction: Jorgen Bjerre, DG MOVE
How to secure energy capacity at the ports? Isabelle Ryckbost, Secretary General, European Sea Ports Organisation
How to build coherent operational environment for ships? Fanny Lossy, Senior Policy Advisor - Maritime Safety, Environment & Offshore, European Community Shipowners' Associations
Building OPS infrastructure and supply - opportunities and challenges, Susann Dutt, Member of the Executive Committee, European Onshore Power Supply Association
Q&A
15:20 Panel III - IMO and synergies with other policies - how to secure EU´s global competitiveness?
Introduction, IMO perspective, Roel Hoenders, Head of Air Pollution and Energy Efficiency - Marine Environment Division, International Maritime Organization
From single market to global scale, perspective from export driven businesses, Päivi Wood, Senior Advisor - Transport Policy, Finland Chamber of Commerce
How to secure EU's global maritime competitiveness? Steffen Engling, Climate Policy Adviser, Business Europe
How to avoid carbon leakage in the maritime sector, Jean-Michel Germa, President of Soper and Board member of the French Maritime Cluster
Q&A
15:55 Closing words by MEP Katainen
16:00 Event ends