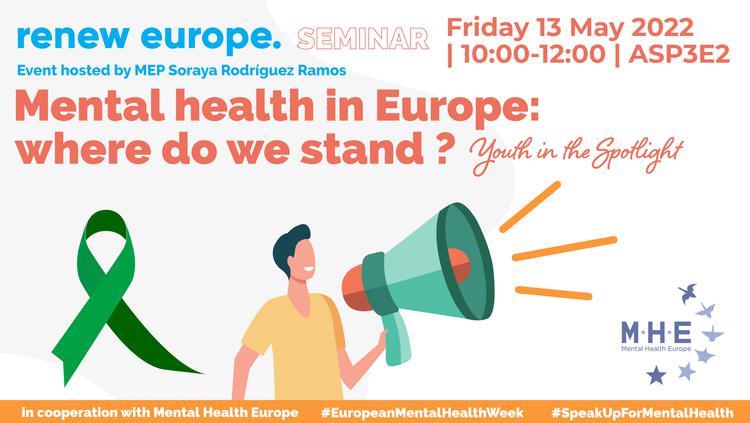 For decades, mental illness has been on the rise both in Europe and worldwide. Before the COVID-19 pandemic, 84 million people (i.e.1 out of 6) were diagnosed with a mental health condition in the EU. According to OECD, one in two people will experience a mental health problem in their lifetime, and many will not receive the care they need.
The need for mental health- and psychosocial support has only grown, first with the arrival of the COVID-19 pandemic and the lockdowns, and now with the war in Ukraine. However, mental health conditions are still largely stigmatized by society at large. The youth has been particular hard hit, as the incidence of mental health problems among people aged between 15 -24 has doubled in most countries during the pandemic. The severity is also underlined by the fact that suicide is the second leading cause of young people's death in Europe. There is an urgent need to address mental health and the social and economic burden carried by young people, spanning from children to young adults, during this unprecedented time.
Renew Europe is therefore putting the topic in the spotlight, as part of the European Mental Health Week, by hosting a seminar with the objective of better understanding the challenge facing us, identify how mental health problems can be prevented and discuss the empowerment and active engagement of young people in decisions about their mental health.
The event will be livestreamed: https://app.livecasts.eu/menta...
European Parliament, Brussels, room Spinelli 3E2
EVENT AGENDA
10:00 Introduction by MEP Rodríguez Ramos
10:05 Intervention by the French Presidency - Professor Frank Bellivier, Ministerial Delegate for Mental Health and Psychiatry, Ministry of Health (France)
10:10 Pre-recorded keynote speech by Stella Kyriakides, Commissioner for Health and Food Security
10:15 First panel - Mental health in the European Union: where do we stand?
Dr Ledia Lazeri, Mental health Advisor, WHO Europe
Dr. Rosa Molina, PhD. Psychiatry, San Carlos Clinical Hospital
10:35 Second panel - Youth´s mental health in the spotlight
Geert Cappelaere, UNICEF Representative for European Union Institutions
Antonella Bujega, Youth Representative and mental health advocate
10:55 Q&A (15 minutes)
11:10 Third panel - Policy options: European Mental Health Strategy, EU Youth Strategy, national actions
Sandra Gallina, Director General, DG SANTE
Claudia Marinetti, Director of Mental Health Europe
11:30 Q&A (15 minutes)
11:45 Presentation of the Youth Mental Health Manifesto
11:55 Closing Remarks by Renew4Youth Task Force Member