During the 2022 IDAHOBIT week, this RENEW4Equality event is welcoming one of the world's leading LGBTQI+ activists, Frank Mugisha, to the European Parliament. Born in Uganda, Mr. Mugisha has devoted his life to fight for the rights of LGBTQI+ people in his homeland as well as the rest of the African continent in very difficult and dangerous circumstances. Mr Mugisha has advocated for human rights reforms in countries where violence, discrimination and homophobia is widespread and he has used his voice as a leading activist to change people's attitude and provide protection for the African LGBTQI+ community. Mr Mugisha is the founder and Executive Director of Sexual Minorities Uganda (SMUG), and he has won several prices for his activism, including the Robert F. Kennedy Human Rights Award, the Thorolf Rafto Memorial Prize 2011 and Civil Rights Defender of the Year 2022.

Where? European Parliament, Brussels, Room PHS 7C50
Streaming Page: https://app.livecasts.eu/be-the-love-generation
AGENDA 16 May 2022

14h30 Introduction by MEP Sophie in 't Veld
14h40 Keynote speeches:
Dr Frank Mugisha, Executive Director, Sexual Minorities Uganda (SMUG)
15h00 Q&A session
15h20 Concluding remarks by MEP Pierre Karleskind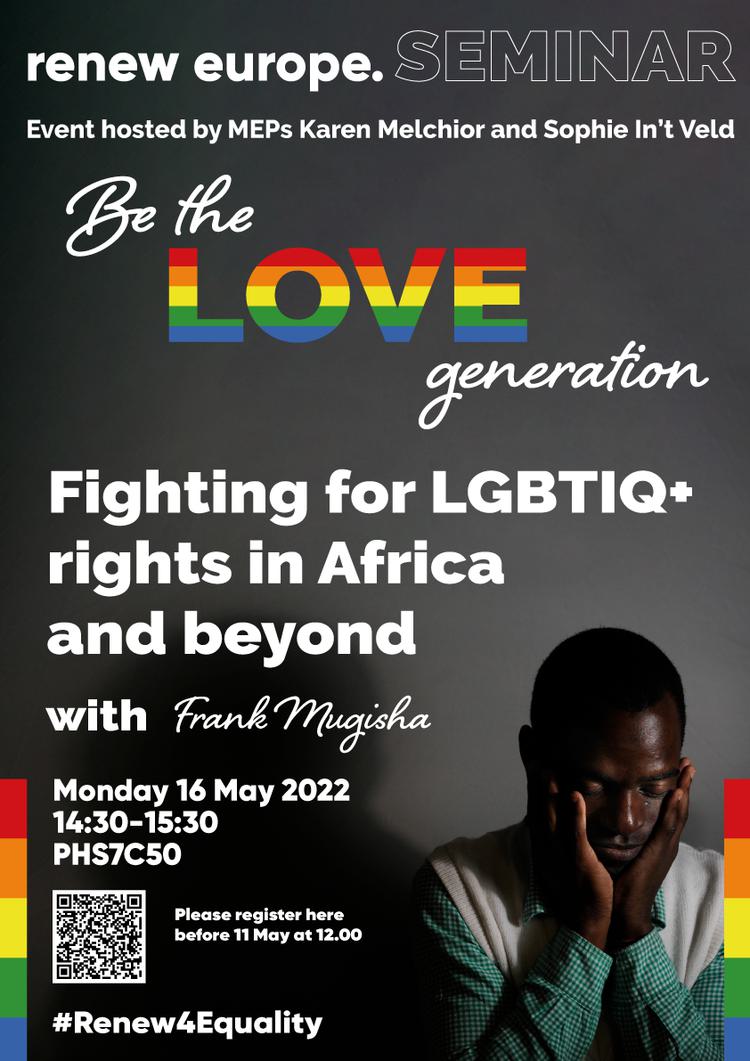 May 17th is the International Day Against Homophobia, Biphobia, Intersexism and Transphobia (IDAHOBIT) and aims to coordinate international events that raise awareness of LGBTIQ+ rights violations and stimulate interest in LGBTIQ+ rights work worldwide.