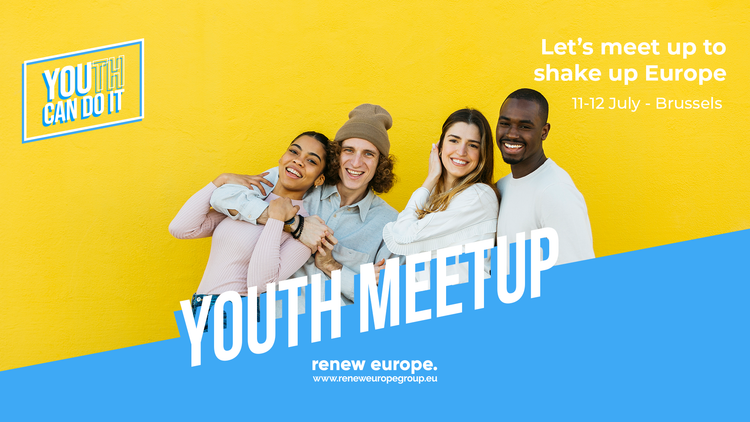 On 11 & 12 July 2022, we invite young people from all across Europe to Brussels - the political heart of the EU - to discuss together with Members of the European Parliament (MEPs) about specific policy solutions on youth employment, entrepreneurship, mental health, inclusion, environment and many other relevant issues.


Tag us on social media @RenewEurope
#YouthCanDoIt #Renew4Youth
Monday, 11 July 2022 (Room ASP 5E2)
14.00 Welcome words

14.15 Presentation of Renew4Youth by MEP Laurence Farreng & MEP Dragoş Pîslaru
14.45 High-level discussions on youth-related topics
Let's face today's challenges without anxiety - Mental health & well-being with Soraya Rodríguez (MEP), Valérie Hayer (MEP), Antonella Bugeja (Activist of Mental Health & LGBTI), Daphne Argyrou (Coordinator at Nightline)
From intern to CEO - Youth Entrepreneurship & the future of employment with Svenja Hahn (MEP), Georges-Louis Bouchez (Senator & MR Party Leader), Alberto Carvalho Neto (President Jeunes Entrepreneurs de L'Union Européenne), Ana Andonovska (Entrepreneur & founder of With Purpose)
16.15 High-level discussions on youth-related topics

Green your life, green your future - Climate & environmental protection with Nicolae Ștefănuță (MEP), Emna Everard (CEO of Kazidomi), Agata Meysner (Bureau Member of Generation Climate Europe), Hlib Mikhno (European Climate Pact Ambassador)
BE4U, B4ALL - How do we foster inclusion, diversity & civic engagement? with Samira Rafaela (MEP), Elena Bonetti (Minister for Family and Equal Opportunities in Italy)
17.30 Motivational speech on the importance of youth involvement by Bart Staszewski (LGBT activist)
17.45 Closing of the event by Kritikos (Artist and Human rights activist)


Tuesday, 12 July 2022
On the second day of the event the participants will be divided into working groups covering a diverse range of policy areas in order to identify together, through a meetup format, challenges that young people face and come up with specific policy solutions.

08.30-10.30 Renew4Youth Meetups kick-off
The participants will be divided into 4 working groups to actively participate in discussions on youth priorities and to draft the Renew Europe Manifesto for Youth. The MEPs of the Renew4Youth task force will be present in the discussions.
• Climate change and environment (Room A5G1)
• Diversity, inclusion and civic engagement (Room P1C51)
• Mental health (A5G375)
• Youth entrepreneurship and the future of work (Room P1C47)

Room PHS 7C050
10.45 Presentation of Renew4Youth Meetups results by participants

11.45 Closing of the event by MEP Laurence Farreng & MEP Dragoş Pîslaru

2022 is the European Year of Youth (EYY), shedding a light on the importance of European youth to build a better future – greener, more inclusive and digital. With plenty of opportunities for young generations to learn, share their vision, meet people and engage in activities all over Europe, the European Year of Youth is the moment to move forward with confidence and hope in a post-pandemic perspective.

Renew Europe is the pro-European, centrist and liberal political group in the European Parliament. We fight for your freedom and civil rights, we push for a fast and just digital and green transition, and we are committed to the creation of jobs and securing economic growth. We are committed to you, we are committed to Europe and that is what we are fighting for. But, in order to be successful, we need YOUth!