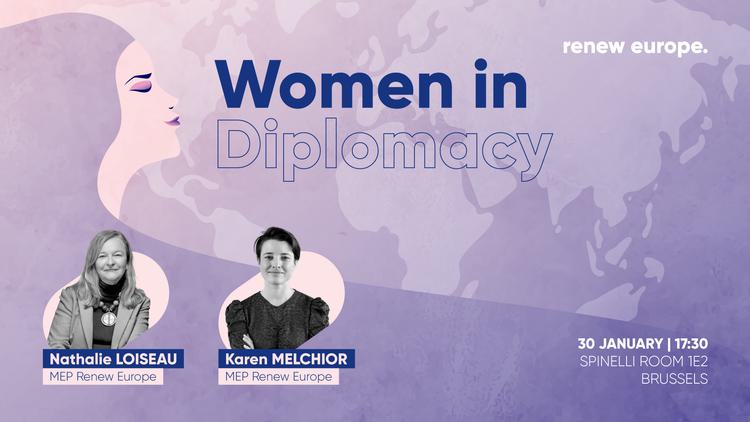 It was for many years difficult or even banned for women to be diplomats. Luckily rules have since been changed. Consequently, the proportion of female ambassadors has risen over time and continues to do so.
In spite of this women still today remain underrepresented in leadership positions and in the most geopolitically important posts. There remain many barriers for women to join the diplomatic services. Today, the total share of women ambassadors, representing countries of 40 largest economies in the world and the European Union stands at 21.6%.
The main goal of this seminar is to raise awareness of the importance of having more women in diplomacy, and the ever-present barriers for women joining diplomatic services. The event aims to:
Raise awareness of the gender imbalance in diplomacy.
Identify the main barriers for a gender balanced diplomacy.
Discuss possible solutions for diplomatic services.
This Renew Seminar will be held in the form of a panel debate, discussing the benefits for diplomacy of ensuring more gender equality. Panellists will be influential women diplomats.
With a panel including speakers from Member States leading the way on gender equality such as Denmark, France and Sweden, attendees will have the chance to debate female empowerment and gender-equality in diplomacy.
Young women diplomats will be invited to share challenges they have experienced (both psychological and practical) and possible solutions for improving gender balance.
PROGRAMME
OPENING REMARKS
17:30-17:40
Nathalie Loiseau - Chair of SEDE Committee and Renew Europe AFET Member
Panel discussions with speakers' panel:
Muriel Domenach - French Ambassador, Permanent Representative of the French Delegation to NATO in Brussels
Anna Aghadjanian - Ambassador of the Republic of Armenia to the Kingdom of Belgium, Head of Mission of Armenia to EU
Ann Towns - Professor, Department of Political Science, University of Gothenburg; Director of GenDip, Sweden
Mette Thygesen - International Director, The Danish Institute for Human Rights
Session 1 | Why is it important for the world to have women in diplomacy?
17:40-18:00
Chaired by Petras Austrevicius, Renew Europe AFET Member
Q&A (5 min)
Session 2 | What are the main barriers for a gender balanced diplomacy today?
18:00-18:20
Chaired by Karen Melchior, Renew Europe FEMM Vice-Coordinator
Q&A (5 min)
Session 3 | How can these problems can be solved and by which institutional bodies?
18:20-18:40
Chaired by Nathalie Loiseau, Chair of SEDE Committee and Renew Europe AFET Member
Q&A (5 min)
CONCLUSIONS
18:40-18:50
Karen Melchior - Renew Europe FEMM Vice-Coordinator