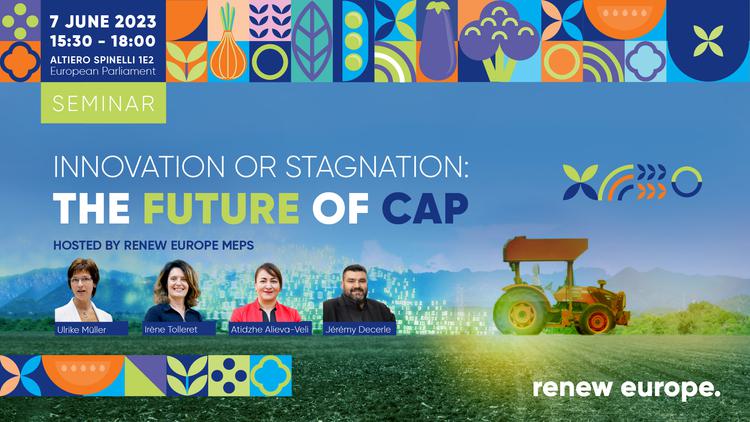 Renew Europe invites you to join the seminar on the Future of the CAP taking place on Wednesday 7 June between 15:30 18:00. This is the fourth and final seminar in a series organised by Renew Europe to set out the liberal vision of the future of the Europe's food and agriculture system. This last seminar will examine the future of the EU agricultural and food policy to see whether it is fit for purpose or a radical overhaul is needed.
The Common Agricultural Policy (CAP) is celebrating 65 years in 2023 and now is the good moment to take a hard look if this policy has managed to keep up with the changing conditions, in terms of not only climate, but also consumer expectations and environmental awareness. In addition, the European Green Deal introduces a completely new set of ambitious legislation that needs to align with the current agriculture and food policy in order to deliver on its basic promise – maintaining EU food security and providing farmers' livelihoods.
RENEW MEPs Ulrike Müller together with Irène Tolleret, Atidzhe Alieva-Veli, and Jérémy Decerle will thoroughly investigate the different issues that are at stake in this seminar, together with a panel of invited experts.

Programme
15.30 Welcome & introductory remarks
Mrs Ulrike Müller, Renew Europe MEP, AGRI coordinator
15.45-16.15 Key input - Food For Thought - How should the CAP look like after 2027?
Moderated by Mrs Ulrike Müller, Renew Europe MEP, AGRI coordinator
Prof. Stephan von Cramon-Taubadel, University of Gottingen: CAP reform – how much and by whom?
David Baldock, IEEP: Embedding Sustainability in a new CAP
16.15-16.45 Panel - Farmers' perspective on the future CAP
Moderated by Mrs Atidzhe Alieva-Veli, Mr Jérémy Decerle, Renew Europe MEP
Anne-Catherine Dalcq, farmer and Vice-president of CEJA: Young farmers' future: an essential consideration to think the future of the CAP
Ivelina Papazova, farmer, Dobrudzha Association of Grain Producers: How to be greener in today's economic climate, while complying with the new CAP legislation

17.00 - 17.25 Debate with key stakeholders
Moderated by Mrs Irène Tolleret, Renew Europe MEP
Luc Vernet & Yves Madre, Farm Europe
Faustine Bas-Defossez, EEB
Eric Gall, IFOAM
Madeleine Coste, Slow Food
Palle Borgström, Copa

17:25 - 17.30 Conclusions by Mrs Ulrike Müller & Mr Jérémy Decerle, Renew Europe MEP
17:30 - 18:00 Refreshments and discussion in the room