The European offshore wind industry: a wake-up call
EUROPEAN PARLIAMENT BRUSSELS | ROOM SPAAK 5B001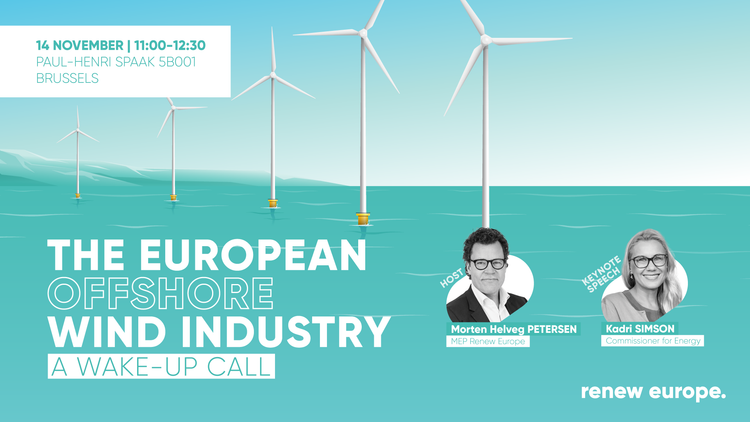 This event will enable an open and in-depth discussion on the European Commission's European Wind Power package, published on 24 October as an outcome of the 2023 State of the Union speech. Commissioner for Energy Kadri Simson is opening the debate with a keynote speech.
The discussion will address the bottlenecks the sector is facing: auction design, permitting, financial support, and the level playing field.
Stakeholders from a range of industries will present their views, so that the proposal can be examined from every angle.
PROGRAMME
11:00 Welcome & introduction - MEP Morten Helveg Petersen
11:10 Keynote speech by Commissioner for Energy Kadri Simson
11:20 Q&A with Commissioner Kadri Simson
11:40 Interventions from stakeholders
Moderator: MEP Morten Helveg Petersen
Catherine Vandenborre, CEO Ad Interim, Elia Group
Xabier Viteri Solaun, CEO of Iberdrola Renewables
Raf Iemants, CEO of Smulders
Antonella Battaglini, CEO of Renewables Grid Initiative and representative of Offshore Coalition for Energy and Nature (OCEaN)
Ulrik Stridbæk, Vice-President of Ørsted
Wanda Buk, Vice-President of Polska Grupa Energetyczna
Ann Mettler, Vice-President Europe, Breakthrough Energy
12:10 Q&A with Renew Members and public
12:25 Concluding remarks MEP Morten Helveg Petersen