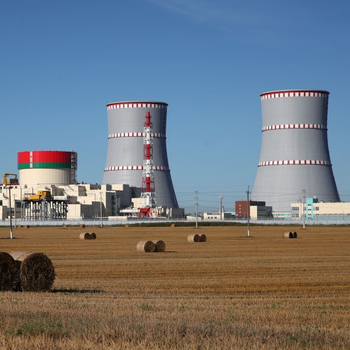 To ensure the safety of European citizens, Renew Europe Group in the European Parliament today called for the European Union and its institutions to increase its pressure on Belarus to ensure that its nuclear power plant in Ostrovets fully complies with the highest international environmental and nuclear safety standards, including the IAEA recommendations. It is of outmost importance for our political group that all safety issues are resolved before the foreseen commercial launch of Ostrovets in a month.
Ivars Ijabs, member of the Committee on Industry, Research and Energy, represented Renew Europe in drafting the resolution. He says: "No ifs, ands, or buts - Belarus should ensure full respect for all international safety standards and full cooperation with international organisations before it starts to operate the nuclear plant. This geopolitical project of Belarus and Russia should not be allowed to pose a threat to the safety of the European Union and its Member States."
Petras Auštrevičius, member of the Committee of Foreign Affairs and the European Parliament's standing rapporteur on Belarus, says: "The Chernobyl and Fukushima calamities must never be repeated. Humankind has already paid a great price for these disasters. Nuclear safety is not about the regulation of threats, risks and the level of uncertainty, but is about complete compliance with all the highest technical and legal requirements.
Therefore, as Europeans, we must be very concerned about the unsafe nuclear power plant being built in Astravyets District, Grodno Region, Belarus, in an impermissible location, which is dangerous due to possible earthquakes.
In order to protect our shared Europe from the repetition of a nuclear disaster, European solidarity is crucial. Europe is our future so let's ensure its safety."
Background:
The Ostrovets nuclear power plant, constructed by the Russian group Rosatom in Belarus, started to generate electricity in November last year despite the many and frequent safety incidents which occurred during its construction, where for example four voltage transformers broke down and the cooling system proved to be malfunctioning. In addition, the recommendations by the EU peer review of 2018 and by the International Atomic Energy Agency (IAEA) are yet to be implemented.
The fact that the power plant is located only 40 kilometers from Lithuania's capital Vilnius, and in proximity to other member states, such as Poland, Estonia and Latvia, makes it a worrisome source of possible safety, protection, health and environmental threat to the EU and its member states.
For more information, please contact
Linda Aziz-Rohlje
Mob : +32 486 94 76 82