Alexei Navalny is the Renew Europe Group's candidate for the Sakharov Prize 2021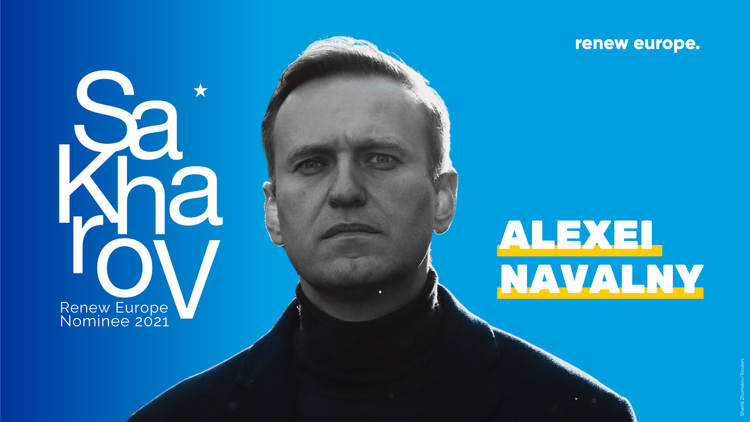 The Renew Europe Group in the European Parliament today designated its candidate for the Sakharov Prize for Freedom of Thought by proposing Alexei Navalny, a Russian opposition politician and anti-corruption activist.
He came to international prominence by organising demonstrations, and running for office, to advocate reforms against corruption in Russia, Russian President Vladimir Putin, and Putin's government. Navalny has been described as "the man Vladimir Putin fears most".
Renew Europe MEP, Guy Verhofstadt (Open Vld, Belgium), who advocated for Navalny's nomination said:
"Alexei Navalny fights for everything the EU stands for in the world: democracy and the rule of law, truth and freedom. Things we take for granted all too often, but in his own country, Putin's Russia, that fight has almost cost him his life. Hence Navalny has become the ultimate symbol of oppression in Russia, backed by so many ordinary Russians who fear to speak up and who deserve the support of our European Union."
Renew Europe Group President, Dacian Cioloș (USR PLUS, Romania), welcomed the Group's decision on Navalny's nomination:
"The choice of Alexei Navalny for the Sakharov Prize is a strong message from our political group. Alexei Navalny is the most blatant symbol of the authoritarian excesses of the Russian regime and the violations of freedom of expression that it commits on a daily basis. We will make every effort to secure his release. Nor do I forget the hundreds of political prisoners who share Alexei Navalny's sad fate. There can be no normalisation of our relations with Russia until the fundamental principles to which Russia subscribed when it joined the Council of Europe are respected."
Note to editors:
Alexei Navalny has been arrested several times by the Russian authorities. On 20 August 2020, Navalny was hospitalised and left in a serious, but stable condition, after a Novichok poisoning during a flight from Tomsk to Moscow. Five months later, after he recovered from coma, he returned to Moscow, where he was immediately arrested at the airport.
On 2 February 2021, a Moscow court sentenced him to two and a half years imprisonment for the alleged violation of his probation for the 2014 suspended sentence for embezzlement, while he was recovering in Germany. On 31 March 2021, Navalny began a 23 day-long hunger strike in protest after prison authorities failed to provide him with adequate medical care or allow his own doctors to visit him. On 9 June 2021, a Moscow court banned Navalny's regional network offices and his Anti-Corruption Foundation, classifying them as "extremist". Alexei Navalny is incarcerated under harsh conditions in a high security penal colony, where he is subject to sleep deprivation and other psychological torture.
ENDS