The People of Ukraine are the Renew Europe Group's candidate for the Sakharov Prize 2022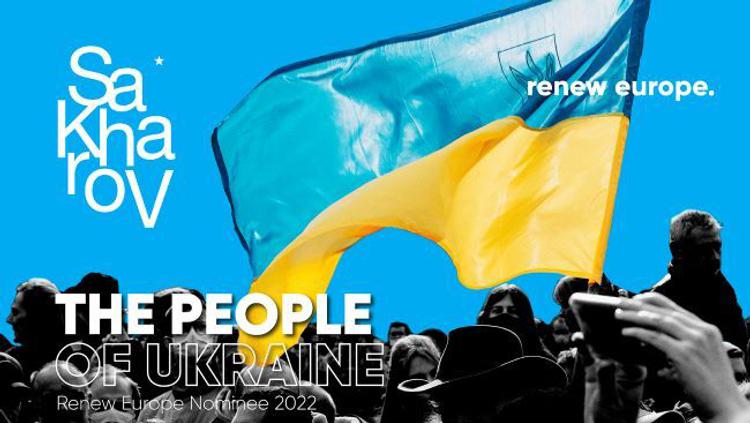 The Renew Europe Group in the European Parliament today designated its candidate for the Sakharov Prize for Freedom of Thought by proposing The People of Ukraine, who have bravely stood up to Russia's unprovoked and unlawful war of aggression.
Ukrainians are not only defending their freedom and independence and that of their country, but also European values and our continent against a brutal regime that seeks to undermine our democracy, to weaken and divide our Union, and to regain influence over the Member States that have freed themselves from Soviet rule.
Renew Europe MEP, Petras Auštrevičius (Lithuanian Liberal Movement), who advocated for The People of Ukraine's nomination said:
"I welcome the Group's decision to support my proposal by electing The People of Ukraine our candidate for Sakharov Prize 2022. Their sacrifice for freedom and their determination to fight against Putin' Soviet ambitions deserve our full recognition. The heroic struggle of the People of Ukraine is turning a new page in a modern European history where Ukraine eventually becomes part of our Union."
Renew Europe Group President, Stéphane Séjourné, welcomed the Group's decision on The People of Ukraine's nomination:
"It is unprecedented in our modern times that a whole European nation contributes so substantially to our fight for freedom and democracy. The sacrifice and resistance of each and every citizen of the Republic of Ukraine must be recognized as the embodiment of our European values. By proposing The People of Ukraine as candidate for the Sakhraov Prize, Renew Europe pays tribute to the commitment of millions who defeat tyranny and totalitarianism in our continent."
Note to editors:
The ongoing aggression is a new scale of the war that Russia launched against Ukraine in February 2014 after the Ukrainian Revolution of Dignity, during which the Ukrainian people demanded that their country follow a pro-European path.
Over the past six months, we have seen the heroism and unity of Ukrainians against their oppressors. Rescuing and caring for the wounded, evacuating civilians from the hot spots, providing food and shelter to those in desperate need, recording war crimes and providing support to the victims - these are examples of the hardships and devastating challenges that Ukrainians face every day.
The prize itself would be awarded to individuals, civil society initiatives and public institutions that provide emergency assistance to war-affected people, defend and protect human rights and fundamental freedoms, Ukrainian statehood and democracy.