The Women on Boards Directive – at last the European Union takes legal measures towards gender equality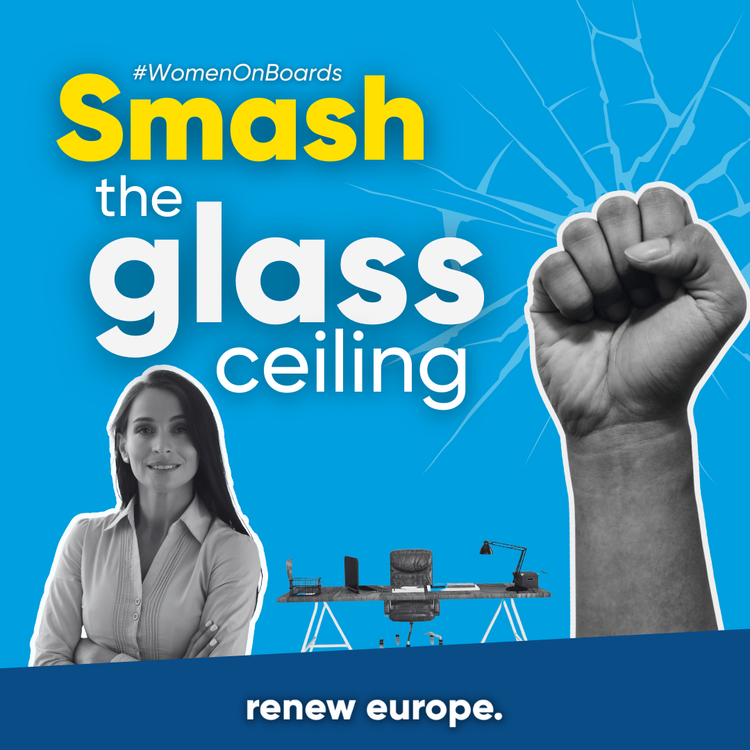 After ten long years of standstill in the Council, the legislation that increases the presence of women on corporate boards entered the final phase of the procedure with the adoption today in the European Parliament. The Renew Europe Group congratulates its representatives that fought tirelessly for the "Women on Boards" Directive to become reality.
The legislation seeks to introduce transparent recruitment procedures in companies, so that at least 40% of non-executive director posts or 33% of all director posts are occupied by women (Today, women account for 30% of board members in the EU's largest listed companies). The selection procedures should be transparent, and listed companies will be required to publish information about the gender representation. Small and medium-sized enterprises with fewer than 250 employees are excluded from compliance.
Thanks to the efforts of our MEPs, companies must comply with this target by 30 June 2026. Renew Europe insisted on the need for effective and dissuasive penalties for companies that fail to comply with the objectives.
MEP Karen Melchior (Independent, Denmark), Renew Europe's coordinator on the Legal Committee and co-negotiator on the legislation, says:
"With the directive we send a clear message to women all over the Union: you can have a place everywhere - also in the board room. For nearly 100 years women In Europe have formally had equal rights. Yet still we are far from parity in our company boards. There's no evidence women have less talent than men. Yet women are missing from the board rooms. With this directive we raise the bar on greater gender equality. Reaching the targets is not enough, so member states must not let the directive stand alone but continue actions on gender equality".
MEP Samira Rafaela (D66, the Netherlands), member in the Women's Rights and Gender Equality Committee and Renew Europe's co-negotiator on the legislation concludes:
"More women on boards across the European Union will make our economy more diverse and stimulate creativity. This leads to better outcomes. Especially in times like these, we need innovation for more benefits in our economy. The top of companies will now better reflect the European citizens. The targets will result in greater possibilities for women, for equal participation and equal say in our economy. With the faming list introduced by Renew Europe, companies that are meeting the targets will receive positive recognition. And we will also know which companies we can hold accountable. With Women on Boards, the new generation will also get the role models it deserves. Female leadership at the top of companies will inspire girls and young women across the EU."