Deals undo six-year-long blockage of key Migration and Asylum legislation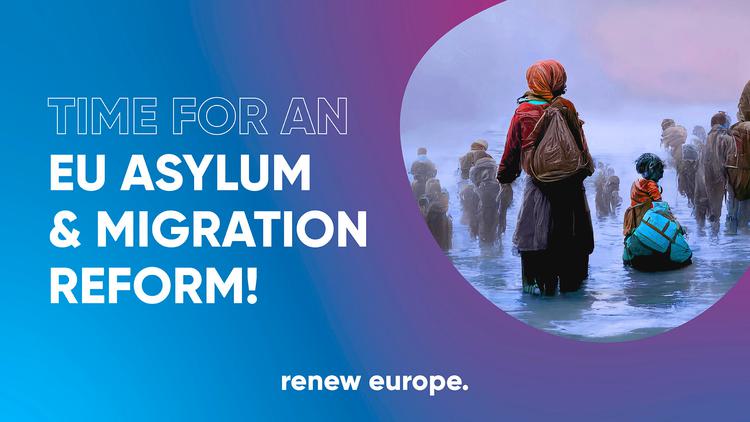 Negotiators for the European Parliament and the Council of the EU have agreed on three important building blocks of a common EU asylum and migration policy. Today´s agreement breathes new life into a long-stalled process that has been on hold since 2016. The pieces on the table were the Reception Conditions Directive, which aims to ensure high common EU reception standards for refugees and the Resettlement Framework Regulation, which seeks to provide safe and legal pathways to international protection. The Council furthermore endorsed the Qualification Regulation, which puts forward common definitions for who qualifies for asylum in the whole EU.
These final agreements are part of a Joint Roadmap agreed between the European Parliament and the Council, an initiative taken by Renew Europe to undo the blockage of the inter-institutional negotiations on the Common European Asylum System and implement the Migration and Asylum Pact before the end of the mandate.
The revision of the Reception Conditions Directive, led by European Parliament rapporteur Sophie in 't Veld (D66, Netherlands), ensures that there is greater consistency in reception conditions between member states. The directive includes standards for housing, food, access to healthcare and employment. It makes sure people are received in a dignified way and are given opportunities to participate, through education and training. Particularly the rights of children have been reinforced in the text, making sure they have an adult representative from day one to see to their interests.
Sophie in 't Veld, Renew Europe Coordinator in the Civil Liberties, Justice and Home Affairs (LIBE) Committee and rapporteur for the recast of the Reception Conditions Directive, underlined:
"This is a big deal. The lack of a common asylum and migration policy has been a big failing of the European Union - and especially the European Council for years now. Today we have agreed on important building blocks for a true EU asylum policy. Individual member states struggle with the reception of asylum seekers, but united we can take on this task in an orderly and dignified way."
Meanwhile, the establishment of a Union Resettlement Framework will mean that the admission of displaced refugees from non-EU countries to EU countries will be based on stable frameworks instead of the current unstructured ad hoc schemes, ensuring that no one will have to resort to criminal networks of smugglers.
Abir Al-Sahlani (Centerpartiet, Sweden), Member of LIBE and Renew Europe's negotiator on the Resettlement Framework Regulation, said:
"With the Union Resettlement Framework Regulation finally in place, the EU finally has a flexible and efficient tool to quickly respond to humanitarian crises around the world. With this piece of legislation, we will be able to provide help by resettling the most vulnerable persons to the union. I am happy to see that we finally are moving forward on key proposals to the Migration Pact, and that the Resettlement file, blocked for so long by the Council, is finally adopted."