Plan to counter US green subsidy bill must be genuinely European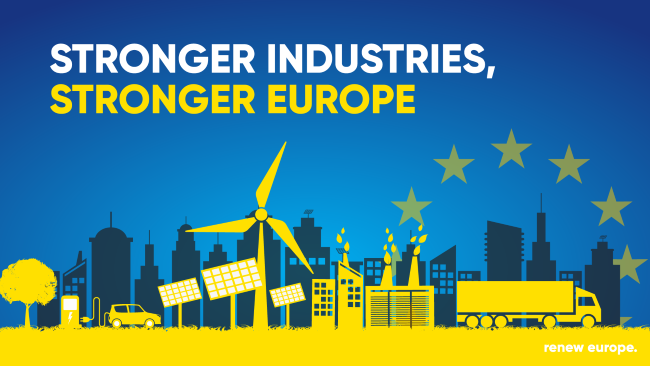 The Renew Europe Group welcomes today's long overdue proposals by the European Commission on the new Green Deal Industrial Plan, which closely mirror our proposed industrial plan: 'Stronger Industries, Stronger Europe'. The EU must respond to the risks that the US Inflation Reduction Act (IRA) poses to the competitiveness of European businesses and the integrity of Europe's single market.
A temporary crisis and transition framework allowing greater aid beyond the EU's current state aid rules will help to boost EU's industry competitiveness, foster clean technologies and renewable energy across the continent, enabling Europe's industry and economy to stay fit for the zero emission era. Renew Europe is also demanding a comprehensive plan to foster new partnerships with democratic third countries which will create a level playing field with EU-inspired environmental and human rights standards.
We believe this reform of state aid rules should go hand in hand with the European Sovereignty Fund that Renew Europe was the first group to propose already in May 2022. This Fund will prevent potential fragmentation of the single market due to uncoordinated national schemes and strengthen a united European response*. Moreover, this new Fund, together with a reform of the EU own resources system, the improvement of the MFF and the use of the leftovers of existing programmes, will give the Union the necessary budgetary backbone to fight present and future economic disruptions and supply shortages, while reinforcing EU´s open strategic autonomy, one of our biggest political priorities.
MEP Stéphane Séjourné, President of the Renew Europe Group, said:
"27 national reactions to the Inflation Reduction Act is a recipe for failure. We need a truly European solution to secure open strategic autonomy, invest in EU wide projects and the green tech revolution. This must go hand in hand with a European response to strengthen the Single Market and reduce burdens for businesses. Here's Renew Europe's advice for the follow-up of the plan: make it fast, make it big, make it green, make it simple".
Note to editors
*The establishment of a new European Fund pursues to finance the necessary investments and structural reforms on essential European sectors such as cross-border energy infrastructure, renewable energy production and energy efficiency, cybersecurity, industrial competitiveness, circular economy, raw materials, food security and sustainable development, thereby securing Europe's open strategic autonomy. The Commission should establish such new fund according to the ordinary legislative procedure and function under the full oversight of the European Parliament and with direct management. Moreover, its overall amount must be based on a clear assessment of the costs and investment gaps, taking into account lessons learnt from NGEU.