Renew Europe initiates a resolution on Moldova calling for EU sanctions against those destabilizing the country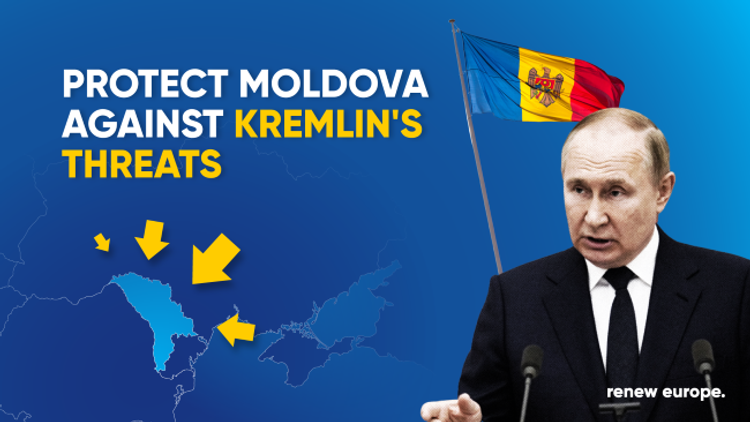 The Renew Europe Group in the European Parliament strongly condemns Russia's attempts to destabilize the Republic of Moldova, calls on the EU and its Member States to sanction those responsible for this and to step up its support to Chisinau.
At the initiative of our political group, MEPs today debated the challenges facing the Republic of Moldova and will vote on a resolution on this topic during the next plenary session.
Renew Europe made it clear we need to take action to counter Russia's use of hybrid means, including by increasing technical resources and expertise in combating disinformation, cyber-attacks and other hybrid attacks. Given Moldova's security challenges, our Group calls to establish and launch an ambitious EU CSDP Advisory Civilian Mission and to increase the contributions the country receives through the European Peace Facility.
A stable economy is crucial for the security and resilience of a country. We call on the EU to continue to provide political, economic, and humanitarian support to the Republic of Moldova, and to promote the rule of law, democracy, and reforms in the country. Given the structure of the small Moldovan economy and based on positive audit assessments, we call on the EU to further allow the exports of Moldovan origin goods, to support the country's joining the Single Euro Payments Area (SEPA) and to extend Roam like home to the Republic of Moldova.
Ensuring Moldova's resilience to energy-related external pressure is also very important, therefore the EU has to increase its funding to finalise the country's connection to its energy grids.
MEP Dragoş Tudorache (REPER, Romania), Renew Europe Group's Vice-Chair and the European Parliament's rapporteur on Moldova, said:
"President Maia Sandu and the citizens of Moldova have chosen a societal model that is built on democratic rules, individual rights and freedoms, and on an open economy. This model and the Ukrainian model are in complete contrast to Putin's vision of how a country works. This is what the hybrid attacks to which the Republic of Moldova and its political leadership are subject to are all about. The European Parliament must ensure that the EU's support for Moldova will continue, and that it will benefit the majority that chooses democracy."