Dans cette table ronde, des experts discuteront de la situation humanitaire et sécuritaire actuelle au Mozambique, notamment Capo Delgado. Les orateurs discuteront de la dimension humanitaire du conflit, de la situation sécuritaire locale et des efforts actuels et futurs visant à endiguer le terrorisme et à renforcer le développement. Au cœur de cette table ronde se trouve la discussion sur l'avenir. Le développement du Mozambique, ainsi que leur rôle dans la communauté est-africaine.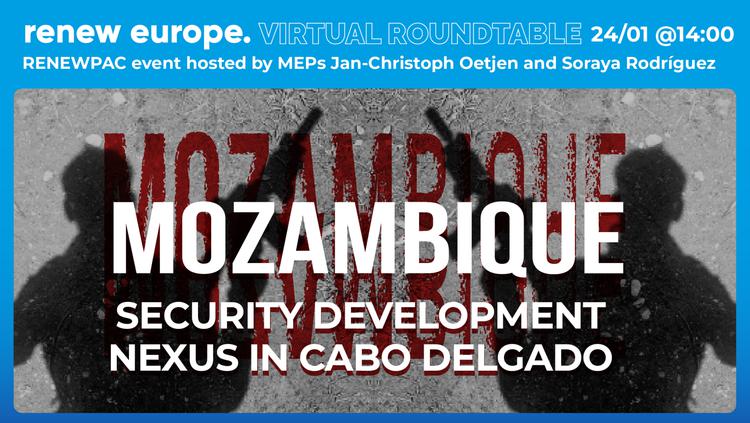 DRAFT PROGRAM
WELCOME NOTE
JAN-CHRISTOPH OETJEN MEP - RENEW EUROPE GROUP, DELEGATION TO THE ACP-EU JOINT PARLIAMENTARY ASSEMBLY
SPEAKERS
CARLOS ZORRINHO - CHAIR DELEGATION TO THE ACP-EU JOINT PARLIAMENTARY ASSEMBLY
AMBASSADOR ANTONIO SANCHEZ-BENEDITO GASPAR - HEAD OF THE EU DELEGATION MOZAMBIQUE
FELIPE PATHÉ DUARTE - PROFESSOR AND RESEARCHER SPECIALIZED IN DEFENCE AND AFRICA
SORAYA RODRÍGUEZ MEP - RENEW EUROPE, CHAIR DELEGATION FOR RELATIONS WITH THE PAN-AFRICAN PARLIAMENT
ANDREA KOULAIMAH
DG ECHO Director (Directorate D – Humanitarian Aid Operations) for Sub-Saharan Africa, Asia, Latin America and Pacific.
AMBASSADOR BERTA CELISTO COSSA - MOZAMBIQUE EMBASSY BELGIUM
DARREN BERGMAN MP (South Africa) DEMOCRATIC ALLIANCE - INTERNATIONAL RELATIONS & CO-OPERATION, SADC VICE CHAIR OF THE DEMOCRACY, GOVERNANCE AND HUMAN RIGHTS COMMITTEE
Q&A
CONCLUSION

JAN-CHRISTOPH OETJEN MEP - RENEW EUROPE GROUP, DELEGATION TO THE ACP-EU JOINT PARLIAMENTARY ASSEMBLY