Ending gender-based violence
Venue: Hestia Hotel Europe Conference Room (Paadi 5, Tallinn)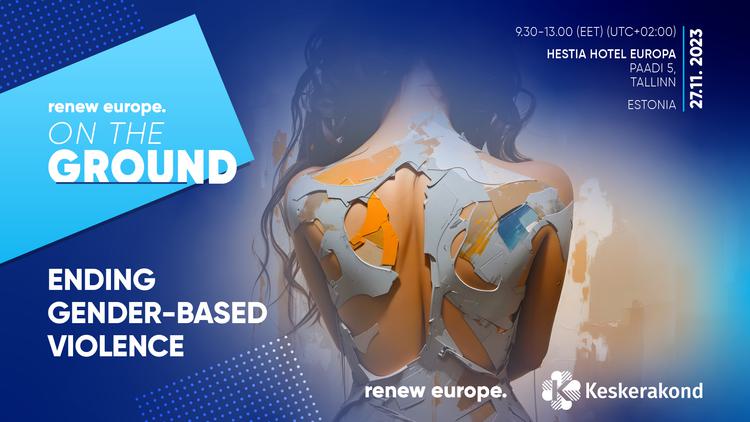 In the context of International Day for the Elimination of Violence against Women, the conference aims to address critical discussions surrounding policy to fight and end gender-based violence as well as identify barriers. The European Parliament has taken a strong stance on the implementation of the Istanbul Convention, the Gender-Based Violence Directive and the criminalization of rape and any sexual assault, the inclusion of the gender-based violence dimensions in other areas of criminal law, such as cyber violence and human trafficking.
The selected panel will represent many voices, from advocates to front-liners in the fight against violence.

Event Agenda
9.30 Registration and welcome coffee
10.00 Opening remarks (MEP Yana Toom, Renew Europe)
10.10 Implementation of the Istanbul Convention in Estonia: are we satisfied with results? (Iris Pettai, Estonian Institute for Open Society Research)
10.40 The European approach for tackling gender-based violence (MEP Karen Melchior, Renew Europe; Irene Rosales, European Women's Lobby; MEP Yana Toom, Renew Europe)
11.10 - 11.30 Coffee break
11.30 Insights from within a women's support center: Viimsi HooliMine (Ene Lill, CEO; Maarika Pähklemäe, lawyer)
11.40 Panel discussion (MEP Karen Melchior; Irene Rosales; Iris Pettai, Anne Kruusement, Ministry of Justice, Liis Allmäe, Social Insurance Board, Andres Anvelt, former minister of Justice(2014-2015))
12.40 Q&A
13.00 Closing remarks (MEP Yana Toom, Renew Europe)
Moderator: Laura Mallene


Konverentsi eesmärk on Rahvusvahelise naistevastase vägivalla likvideerimise päeva kontekstis käsitleda kriitilisi arutelusid soolise vägivalla vastu võitlemise ja selle lõpetamise poliitika üle ning tuvastada tõkked. Euroopa Parlament on võtnud kindla seisukoha Istanbuli konventsiooni, soolise vägivalla direktiivi rakendamise ning vägistamise ja igasuguse seksuaalse kallaletungi kriminaliseerimise suhtes, soolise vägivalla teema kaasamise suhtes teistesse kriminaalõiguse valdkondadesse, nagu näiteks kübervägivald ja inimkaubandus.
Konverentsi paneeldiskussioonis osalevad tuntud selle ala eksperdid ja soolise vägivalla vastase võitluse aktivistid.
Event Agenda
9.30 Registreerimine ja tervituskohv
10.00 Avasõnad (EP liige Yana Toom, Renew Europe)
10.10 Istanbuli konventsiooni rakendamine Eestis: kas oleme tulemustega rahul? (Iris Pettai, MTÜ Eesti avatud ühiskonna instituut)
10.40 Euroopa lähenemisviis võitlemiseks soolise vägivallaga (EP liige Karen Melchior, Renew Europe; Irene Rosales, European Women's Lobby; EP liige Yana Toom, Renew Europe)
11.10 - 11.30 Kohvipaus
11.30 Viimsi naiste tugikeskuse HooliMine ülevaade (Ene Lill, juhatuse liige; Maarika Pähklemäe, jurist)
11.40 Paneeldiskussioon (EP liige Karen Melchior; Irene Rosales; Iris Pettai, Anne Kruusement, Justiitsministeerium, Liis Allmäe, Sotsiaalkindlustusamet, Andres Anvelt, endine justiitsminister (2014-2015))
12.40 Küsimused ja vastused
13.00 Kokkuvõte (EP liige Yana Toom, Renew Europe)
Moderaator: Laura Mallene