Turkey's military intervention in Northeastern Syria: EU must consider targeted sanctions if dialogue with Erdogan fails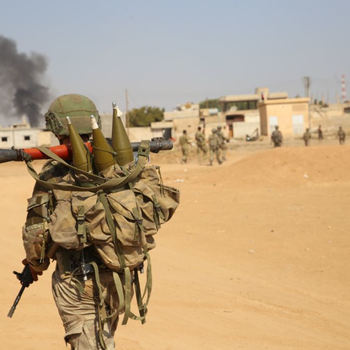 The Renew Europe Group in the European Parliament strongly condemns the unilateral Turkish military intervention in northeastern Syria and urges Turkey to put an immediate and definitive end to it. Following the letter sent ten days ago to HR/VP Mogherini, by Renew Europe Group First Vice-President, Malik Azmani (VVD, The Netherlands) and co-signed by over 250 MEPs across the political spectrum, the European Parliament today adopted, with a large majority, a resolution calling on the VP/HR to deliver the EU's position to the Turkish authorities and to lay the foundation for a strong and comprehensive EU response to this crisis.
MEP Malik Azmani welcomed the European Parliament's position and warned about the danger of Islamic State's revival:
"ISIS terrorists have been able to escape prison as a direct result of the Turkish move and the withdrawal of US troops. A revival of ISIS and the possible return of these terrorists to European soil presents an immediate safety threat to our societies and for our citizens.
So far the EU's response has not been strong enough. We cannot just stand by and watch others interfere. It is also our safety that is at stake. With one voice we have to make perfectly clear to Turkey that we do not accept this!
I urge the High Representative to set up an immediate dialogue with the Turkish Government to reach a sustainable solution and to hold Erdogan to his promise of keeping ISIS-prisoners in detention. We also must be prepared for firmer action: arms, economic and targeted sanctions.
Let us combine our strengths and show unity and bring the violence to an end. We owe it to the people in the region and to our European citizens."
Renew Europe's coordinator in Foreign Affairs Committee, Hilde Vautmans (Open VLD, Belgium), added:
"Europe has been completely absent in this conflict as it lacks a genuine and strong Common Foreign and Security Policy. From the outset, it has been a spectator while also suffering from the consequences
from the consequences of the conflict in Northeast Syria. Europe should know by now that other powers will not defend its interests and that it should assume more responsibility for its own security instead of outsourcing it to Trump or Erdogan.
I welcome the strong condemnation of this house but our action should not stop here. It is time for Europe to finally become strategically autonomous."
MEPs are also extremely concerned about allegations of the use of white phosphorus by the Turkish forces and/or their proxies against civilians, which is prohibited by international law and call on Turkey to ensure accountability for atrocities committed by their proxy militias.
ENDS
For more information, please contact
Goleanu Lucian
Tel : +32 2 283 40 20
Mob : +32 474 09 14 39