EU must adopt a more assertive policy towards the Russian Government, while reaching out to its people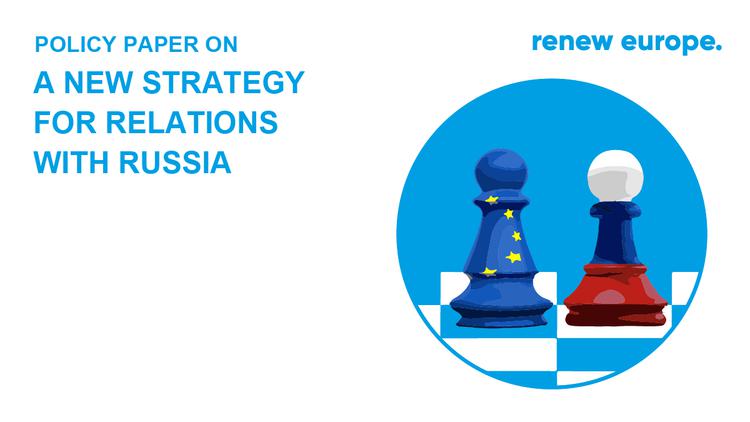 The Renew Europe Group in the European Parliament today launched its Policy Paper on "A new strategy for relations with Russia", calling on the EU to increase its internal resilience and to adopt a more assertive, robust strategy, with Member States readjusting and unifying their approach to relations with Russia in a way that balances toughness and restraint.
The EU must continue supporting the sovereignty and resilience of our partners who are vulnerable to Russian interference and coercion, particularly in the Eastern Partnership and in the Western Balkans. The EU must make clear that it will not recognise the annexation of Crimea, that it will support free and fair elections and democratic renewal in Belarus, dissuading Russian authorities from asserting control in the country and upholding the sovereignty and freedom of all Eastern partners to choose their political and economic alliances.
The EU must engage in a number of security programmes with the aim to strengthen security, military, intelligence, and cyber cooperation with countries in the Balkans, Eastern Europe, the Middle East and North Africa, where Russian forces are active, and keep, together with NATO, adequate military capabilities on NATO's Eastern Flank.
Renew Europe MEP, Bernard Guetta (Délégation Renaissance, France), shadow rapporteur on Russia, who drafted our policy paper, said :
"Never have relations between the European Union and the Russian Federation been so bad. The clouds are gathering, but we do not confuse Mr. Putin and the Russian people with whom we must and can come to an understanding one day."
MEP Hilde Vautmans (Open Vld, Belgium), Renew Europe Group's coordinator in the Foreign Affairs Committee, added:
"At this moment in time it is unthinkable to talk about prospects for a more cooperative relationship between the EU and Russia. The list of Russian actions causing the strain in relations is long and the pinnacle of all might be the current military build-up and provocations at the border with Ukraine. Nevertheless, the EU cannot be content with a Russia policy limited to the renewal of economic sanctions. Our new strategy offers the building blocks for a strategy with Russia in which the EU acts to increase its internal resilience, defends its interests and values while keeping channels of communication with Russian authorities open and reaches out to the Russian people."
ENDS