Digital Services Act: Renew Europe wants a better internet where users are protected and digital companies can fairly compete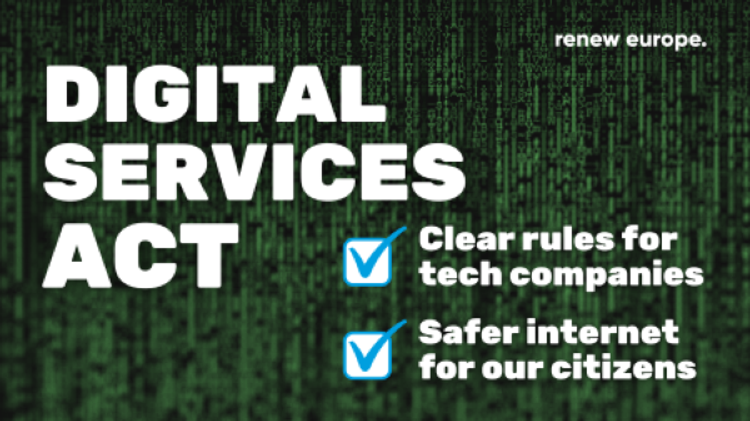 The Renew Europe Group in the European Parliament pushes for a modern legal framework that ensures the safety of users online and guarantees the protection of fundamental rights while maintaining a fair and open digital environment.
The Digital Services Act, today approved by the Committee on the Internal Market and Consumer Protection, will bring more legal certainty for online providers with new harmonised rules and stronger competition in the digital single market, by better protecting citizens and their rights with more choice and less exposure to illegal content.
For Renew Europe is important that new rules don't overburden start-ups, micro, small and medium companies, which are key for the EU competitiveness worldwide. We also want a more transparent and informed choice for consumers, especially when it comes to targeted ads.
The internet should be safer for minors and more accessible to all citizens. That is why Renew Europe insisted on having a specific prohibition to target or profile children online and on making sure that platforms respect specific accessibility criteria for people with disabilities. Both provisions were included in the DSA.
MEP, Dita Charanzová (ANO, Czech Republic), Vice-President of the European Parliament and Renew Europe Group's rapporteur on Digital Services Act, said:
"I am proud we were able to find a balanced outcome that maintains the principles of the E-Commerce Directive that has built the open and free internet of today. But we make it better by creating a fair system to quickly remove the illegal content that pollutes the online world. We have done this and we have done it in a way that respects users. Gone will be the days of your birthday party video just disappearing without any reason. Gone are the days of internet trolls or business rivals false flagging content. You will now have a right to a counter-notice and to get your content back."
"This regulation will lead to a better internet, where laws are respected. But we do not want a sterilized internet, we do not want a censored internet. We must defend the rights and freedoms of our citizens, including freedom of speech. We only ask for platforms to take their responsibility for their own terms and conditions. They must apply them in a fair and non-arbitrary way for all."