MiCA: deal ensures an innovative and future proof regulation for crypto assets in Europe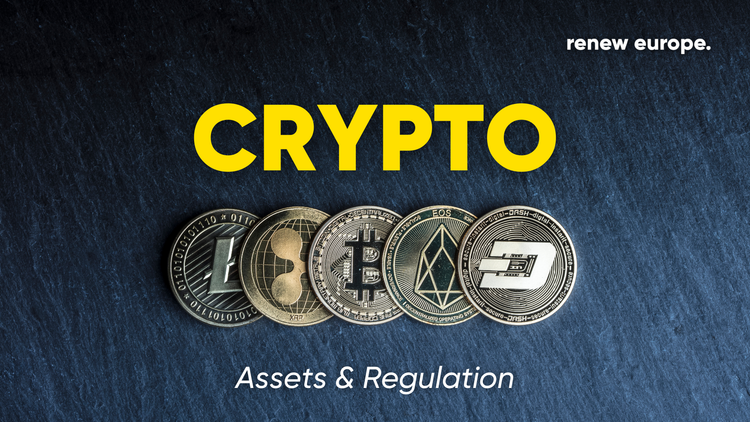 The Renew Europe Group in the European Parliament welcomes today's interinstitutional agreement on Markets in Crypto-assets (MiCA) Regulation, which aims to introduce for the first time a sound legal framework for crypto-asset markets to develop within the EU, by clearly defining the regulatory treatment of crypto-assets that are not covered by existing financial services legislation.
Renew Europe advocated for a final compromise that foresees a harmonised approach that is proportional, flexible (to allow innovation) and future-proof, while also improving financial stability, fair competition, consumer and investor protection and addressing sustainability concerns. In addition, our MEPs have worked hard to make this regulation compatible with the upcoming anti-money laundering package.
MEP Ondřej Kovařík (ANO, Czechia), Renew Europe's shadow rapporteur on this file, said:
"The EU has agreed to a landmark deal on the MiCA Regulation. This marks the first steps to framing crypto markets in Europe, with the objective of giving certainty to investors, and a predictable framework for crypto firms operating within the EU Single Market"
Likewise, our political Group embraces the interinstitutional agreement on the revised transfer of funds regulation (EU 2015/847). The endorsed text will reinforce Union policy on preventing money laundering and terrorism financing by ensuring crypto-asset transfers (out of the EU scope so far) have the same requirements as for cross-border wire transfers, so as to secure adequate oversight, and to clearly identify both providers and beneficiaries. In the context of the unfolding crisis in Ukraine, this regulation might be key to prevent Russians linked to Putin's regime from circumventing EU sanctions.
MEP Ondřej Kovařík declared:
"EU institutions found a provisional political agreement on the Transfer of Funds Regulation. I believe it strikes the right balance in mitigating risks for fighting money laundering in the crypto sector without preventing innovation and overburdening businesses"
Renew Europe has been a leading voice in the European debate on crypto since it held the rapporteurship for the Digital Finance Report, adopted by the European Parliament in 2020, and has consistently called for a strong regulatory framework for crypto-assets, in order to ensure the EU is prepared for structural digital transformations.