Renew Europe presents its action plan on food security and response to the Ukrainian crisis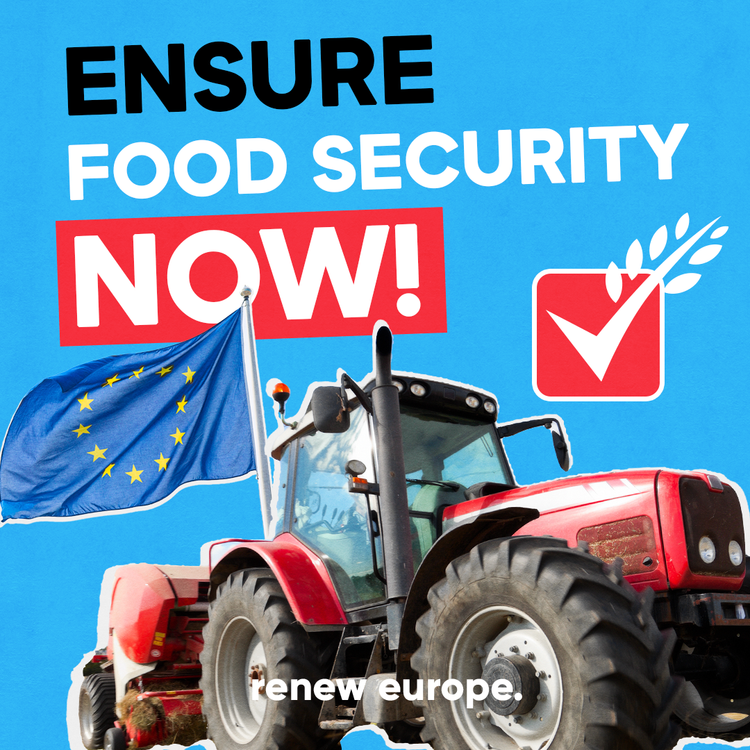 The effects of the crisis caused by Russia's invasion of Ukraine have put food security and the resilience of the global food system at the center of the political agenda. This war has brought reduced availability and rising food prices. It is apparent that crop yields, food production and the export of food products from Ukraine are being targeted by Russia.
To address this ongoing food crisis caused by Putin's aggression, Renew Europe charged its Renew Europe's Task force on food security to elaborate a package of short- and medium - term practical solutions.
Today, Renew Europe launched its package of 15 proposals to address the current food crisis.
In particular, these proposals put the focus on resilience and sustainability, on the food supply chain, the international dimension of food security and investments in accelerating sustainability and autonomy both in the EU and in developing countries.
MEP Dacian Cioloș (REPER, Romania) chair of Renew Europe's Task Force on food security says the following on the package of measures:
"Russia's war against Ukraine has further aggravated the affordability and availability of food, energy and input prices in the EU and in third countries. The EU, as an international player, has the responsibility to undertake urgent measures to increase the resilience of the EU agricultural sector, to support and facilitate the export of Ukrainian agricultural products and to address food security in vulnerable third countries. The Renew Action Plan on Food Security and Response to the Ukrainian Crisis puts forward 15 short and medium-term proposals to respond to the international and EU food crisis in an efficient, effective and timely manner, for example by tackling legal barriers to allow the use of organic fertilisers and alternative plant protection products, but also by accelerating the production of protein for animal feed by using innovative techniques. This will reduce dependence on Russian gas and fertilisers, and provide alternative options for farmers. To increase the export of Ukrainian agri-food products, we suggest opening "green lanes" for cereals, simplifying administration for goods in transit and increasing border crossings to facilitate and speed up the export of Ukrainian grains. These are practical solutions that require political will."
The full version of Renew Europe's Task Force list of proposals can be found at the following link:
https://www.reneweuropegroup.eu/policies/2022-07-06/renew-europe-action-plan-on-food-security-and-response-to-the-ukrainian-crisis