Renew Europe calls for a formal annual debate on the State of the SME Union while shielding SMEs from the scourge of the energy crisis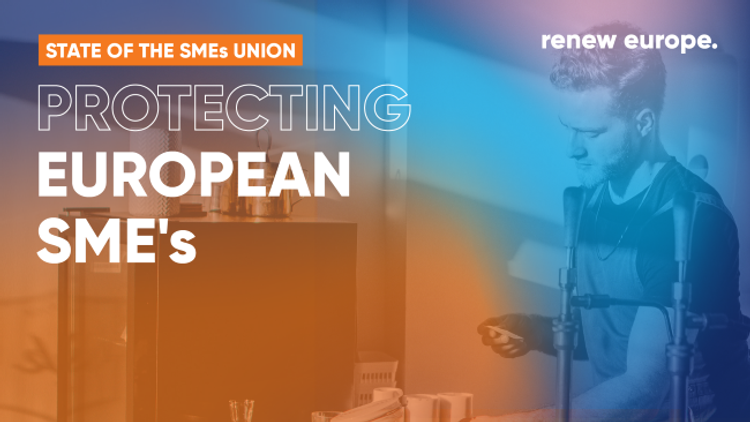 During today's plenary debate on the State of the SME Union, led and initiated by Renew Europe Group for the second time, our political Group called for the Commission and the Council to be held accountable on the SME performance in a formal annual debate with the MEPs. We also called for concrete measures to cushion the impact of unrelenting energy prices, arising from the weaponisation of the global energy supplies by Russia, on the more than 23 million EU-27 Small and Medium-sized Enterprises (SMEs).
Due to the Covid-19 pandemic, SMEs have faced unprecedented economic uncertainty and turmoil, which is all the more important in the current volatile energy situation. In this regard, we appreciate the SMEs-related references made by European Commission President Ursula Von der Leyen during the State of the Union speech, which include cutting the red tape SMEs have to face, as well as the revision of the Late Payment Directive, to ensure that invoices are paid on time, a priority that Renew has long advocated.
Likewise, we called for a temporary emergency mechanism to redirect windfall profits to businesses, in addition to making progress on a European legislative environment in which SMEs can thrive and unleash their full potential, even in the most adverse circumstances*.
MEP Martina Dlabajová (ANO 2011, Czech Republic), Renew Europe SME Taskforce; SME Intergroup Co-Chair and Renew Europe Coordinator on Industry, Research and Energy committee (ITRE), stated:
"The State of the SME Union on today's plenary session is a success not only for Renew Europe as the initiator of this debate, but above all for millions of small and medium-sized enterprises across Europe. This transparent dialogue has become an annual tradition and proves that we cannot succeed without a clear strategy to do more for SMEs. The number one task is to help these companies, exhausted after the Covid-19 period, overcome the energy crisis. If our commitment to SMEs was necessary before the crisis, it now has become essential for their very survival. We need to take every opportunity to help SMEs, regardless of whether they are super innovative and working on the latest technologies or if they focus on traditional crafts."
Note to editors
SMEs represent 99% of all businesses in the EU, so they are a key driver for ensuring the growth, employment and competitiveness of the European economy. On this purpose, Renew Europe has established a permanent SME Taskforce within the Group to always consider European Commission proposals, legislation and other EU actions through the "SME lens" as well as prioritizing and promoting SMEs in policy work. In addition to that, in 2021, we published a policy paper in which we outlined key SME related actions to be taken at European level.