Elon Musk must be held to account in the European Parliament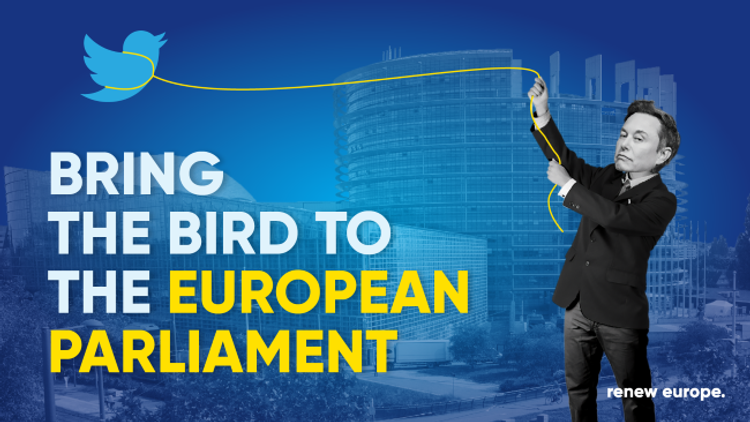 The Renew Europe Group has today written to Roberta Metsola, President of the European Parliament, asking her to invite the new owner of Twitter, Elon Musk, to a parliamentary hearing with MEPs in the Parliament on the reforms he is implementing and the EU's regulatory approach.
In a letter to President Metsola, Renew Europe MEPs raise concerns that the standards applied by Twitter until now, may be weakened, at a time when the fight against election interference, misinformation and hate speech is more important than ever. The manner of the firing of Twitter employees in some EU Member States also raises distinct concerns.
Dita Charanzová MEP, Renew Europe Coordinator on the European Parliament's Internal Market Committee said:
"Twitter cannot become a dystopian hellscape. On the contrary, it must do even more than it has been doing to fight disinformation and hate. This is what Mr. Musk actually signed up for, at least in Europe. He should come and see us so he can understand the European rules of the game. He has obligations under the Digital Services Act and the 2022 Code of Practice on Disinformation, which Twitter is subject to."
Sophie in 't Veld MEP, Renew Europe Coordinator on the European Parliament's Committee on Civil Liberties, Justice and Home Affairs, said:
"The bird might be free, but European values and laws must still apply to Twitter. Elon Musk might be the world's wealthiest man, but no one is unaccountable. A hearing with Mr Musk in the European Parliament would be the opportunity for European lawmaker's to scrutinise his actions and intentions. The direction of travel is worrying; free speech, yes, but we won't tolerate breaches of EU law or a return to the wild west."