EU Ethics Body is the opportunity to strengthen citizens' trust in the EU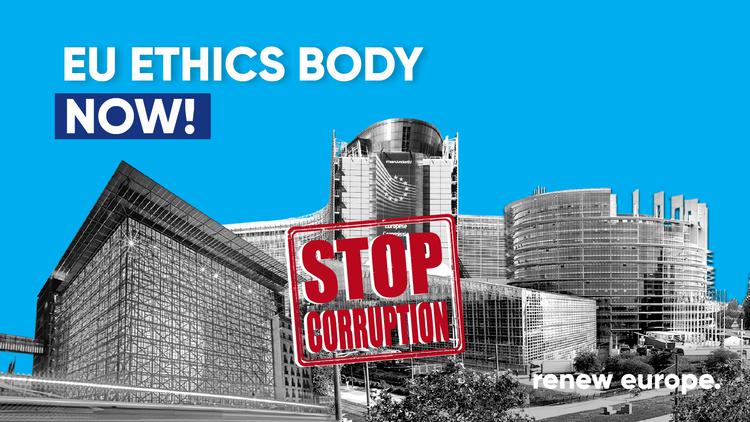 The President of Renew Europe, Stéphane Séjourné, today repeated his call for an independent EU Ethics body with teeth, to oversee the work of the European Parliament, the Commission and the Council.
Renew Europe has tabled a resolution outlining its demands for the EU Ethics body's scope:
Monitoring: the EU Ethics body should monitor ethics standards with, for example, the ability to verify the veracity of the declaration of interests, to monitor transparency obligations and the revolving doors rules.
Advising: this body should be a point of reference and give advice on ethical rules and their interpretation for Commissioners, Members of the European Parliament and staff of the EU institutions
Investigating: the EU Ethics body should have strong investigative powers and be able to initiate procedures in close cooperation with all competent authorities.
Speaking in the debate on this topic, requested by our group during the plenary session, Mr Séjourné recalled how important it is to strengthen our rules of ethics and transparency in light of the Qatargate scandal:
Stéphane Séjourné, President of Renew Europe, declared:
"Qatargate shows that it only takes the weakness and greed of one of us to bring our European institutions into disrepute. Our European dream is precious. We cannot allow it to be tainted by the corruption of some. An independent European ethics body, which my group has been demanding for many months, is a concrete response to prevent these unacceptable abuses. The Commission must present an ambitious legislative proposal as soon as possible."
"We ask all the political groups in this Parliament and the EU Institutions to be ambitious and bold. I regret that certain political groups, which pretend to be fervent defenders of transparency and ethics, do not back up their grand speeches with action. The EPP group had abstained on the creation of such a body in 2021. And the ECR group was opposed. We expect better than that."
Gilles Boyer (L'Europe Ensemble, France), negotiator on the behalf of our group on this resolution and shadow rapporteur on the report adopted in 2021 added:
"We want a more efficient and fair assessment of conflict of interests within the Institutions. Our fellow citizens are watching us. Their demands in terms of transparency and ethics towards their representatives are strong and legitimate. Our ethics are the key to our citizens' trust in our institutions. The European Parliament has shown that it is ready to move forward on this issue for some time now. It is now the turn of the other institutions, in particular the Commission, to play their part and come up with concrete proposals."