For Renew Europe, increased support for Moldova is a strategic emergency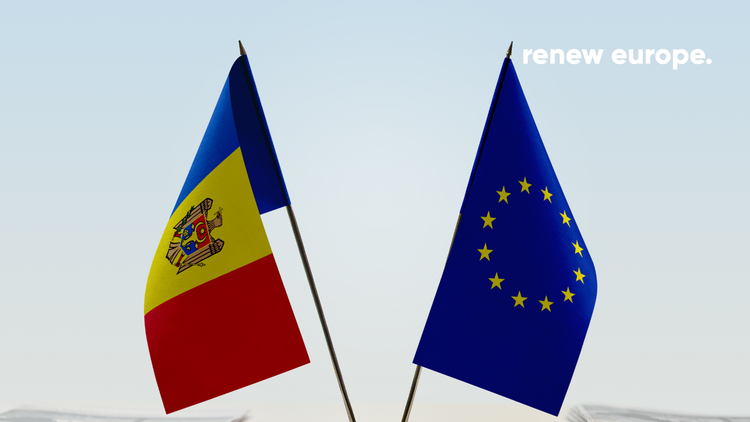 Moldova was this week at the heart of the EU's neighborhood policy with the meeting of the Euronest Parliamentary Assembly in the capital Chișinău, and the working visits of the parliamentary committees for Budgets (BUDG) and International trade (INTA). Our Members notably met Dorian Recean, the Prime Minister. This was an opportunity for Renew Europe, which is very well represented in these various bodies, to reaffirm its firm commitment in favor of Moldova's accession to the EU, and its solidarity with this neighboring country of Ukraine, as it suffers attempts at Russian destabilization and from the economic consequences of the war.
For the BUDG parliamentary delegation, the purpose of this mission was to ensure the proper implementation of the various programs financed by the EU, to stimulate economic coordination with the other international institutions, while urging the European Commission to benefit Moldova fully from the Instrument for Pre-Accession Assistance. From a trade perspective, this mission aimed to discuss bilateral trade and investment opportunities and the steps the EU will take in the coming weeks, such as the Macro Financial Assistance, in order to understand Moldova's needs as much as possible. Our support to Moldova is not limited to political statements, but has and will continue to have very concrete impacts.
Nicolae ȘTEFĂNUȚĂ (USR, Romania), Renew Europe Member of BUDG and Euronest Parliamentary Assembly, said:
"Our visit to Moldova comes with a very clear message: the European Union is with the Moldovans and supports them on their way to becoming a member state of the European Union. We know that words must be accompanied by help, especially in these times. Moldovans are having a hard time, they endured all the consequences of the pandemic, the war, but they were generous and welcomed those fleeing the war with open arms. As the rapporteur for the EU budget of 2023, I fought and obtained an additional 65 million euro for Moldova and will continue to fight that EU's support to be increased."
Karin KARLSBRO (Liberalerna, Sweden), Renew Europe member of INTA committee and EuroNest Parliamentary Assembly, who participated to this mission in Moldova added:
"

The EU must stand by our eastern neighbors as they are attacked for standing up for their right to sovereignty and against Putin

'

s tyranny. Supplying Moldova with the macro-financial assistance they need at this time is an investment in peace and security for all of Europe. As Russia increases the pressure on Moldova, the EU simply cannot afford to allow ourselves to turn our backs on them"
Note to editors
Relations between the EU and Moldova are based on an Association Agreement, in force since 2016, and regularly improved since, including a free trade area. Moldovans have benefited from a visa liberalization regime since 2014. Moldova was officially admitted as an EU candidate country in June 2022. For the period 2021-2024, EU macro-economic support to Chișinău and European investment aid amounts to 600 million euros.