Energy Performance of Buildings Directive: a flexible plan to help EU households and businesses renovate their buildings to save on energy bills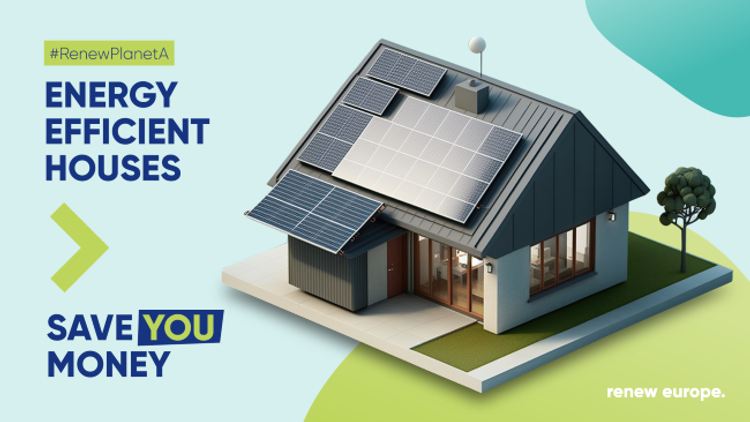 The Renew Europe Group welcomes today's plenary backing of the revision of the Energy Performance of Buildings Directive (EPBD), a key driver within the framework of the Fit for 55 package to achieve a zero-emission building stock by 2050. With energy prices skyrocketing in Europe, preventing energy waste from our buildings represents the most straightforward opportunity to reduce greenhouse gas (GHG) emissions, to decrease demand for energy imports, and to lower the costs for households and businesses.
Renew Europe called for more ambitious minimum energy performance standards, tighter timetables, but also flexibility offered to residential buildings, placing a renovation era as the core strategy towards more sustainable buildings that will bring down energy bills and bolster the EU's circular economy.
Among other important measures of the endorsed text, fossil fuel-based heating systems and financial incentives for installation will be restricted and eventually phased-out. Furthermore, sustainable mobility infrastructure standards are reinforced by introducing a proportionate number of charging points, as well as pre-cabling for parking space and bicycle spaces taking into account the total user capacity.
Renew Europe also stressed the importance of tackling administrative obstacles for the rapid decarbonisation of the EU building stock by application of latest technologies and digital solutions, as well as district heating/cooling from renewable sources and further strengthening and promotion of energy communities.
Renew Europe MEP Morten Helveg Petersen (Radikale Venstre, Denmark), Vice-Chair of the Committee on Industry, Research and Energy, and shadow rapporteur on the recast of the Energy Performance of Buildings Directive (EPBD), stated:
"We need to stop sponsoring Putin's war in Ukraine, and energy savings is the most efficient way to avoid buying Russian gas. Energy efficiency in buildings have never seen this much ambition before, but time is up for ambitions just now. The poor energy performance in European buildings threatens household economies, supports the war on Europe, and is a major contributor to climate change. Our major challenges can only be solved if we stick with high ambitions."