Sealing the ozone hole is within sight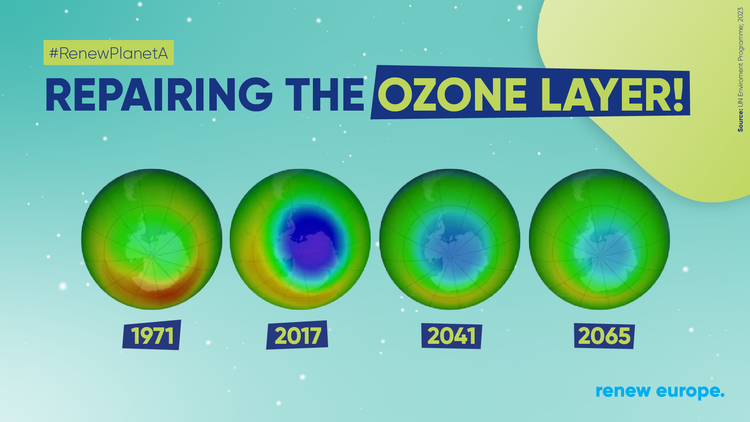 Renew Europe Group welcomes today's adoption in plenary of the updated regulation on ozone depleting substances and of an improved EU regulation on fluorinated greenhouse gases. Those revisions are needed to ensure that we reach our emission targets and our ambition to make Europe climate neutral by 2050.
The decisions made in the past to prohibit ozone-depleting substances in aerosols and hairspray have borne fruit. But although significant climate gains have been made with the hopeful prospect that the ozone hole over the North Pole can be closed by 2045 and at the South Pole by 2065, the ozone layer that protects life on earth has not yet been fully repaired.
For Renew Europe, it is therefore essential, through better monitoring, to step up actions to phase out ozone depleting emissions and to prevent ozone-depleting substances which used to be applied in the past and are not yet destroyed or recovered, to be emitted into the atmosphere.
The Renew Europe Group in the European Parliament equally expressed support for an improved and more effective regulation on fluorinated greenhouse gases. Those F-gases account for some 2,5% of total EU emissions. Committed to meeting our climate goals and preventing any additional global warming, Renew Europe calls for a policy that phases out the use of these f-gases, in particular where sustainable alternatives are readily available
MEP Ondřej KNOTEK (ANO 2011, Czechia), Renew Europe Shadow rapporteur on both files, declared:
"Protecting the ozone layer is one of Renew Europe's priorities. Closing the ozone hole by further emission reductions of substances that deplete the ozone layer will have benefits not only for the environment but also for the health of all European citizens. We should also better control the emissions from fluorinated greenhouse gases while ensuring at the same time that the additional emission reductions are in line with other sustainable targets such as energy efficiency and circular economy."