Renew Europe calls for the safeguarding of the Rule of Law in Greece and the speeding up of the investigation into the murder of Greek journalist Giorgos Karaivaz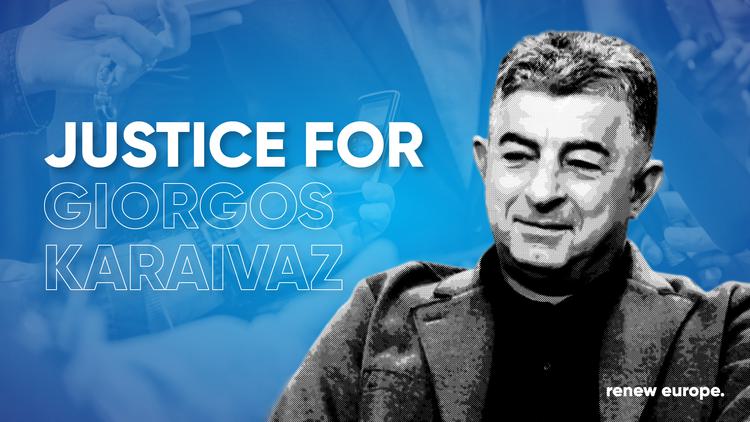 Two years have passed since the murder of journalist Giorgos Karaivaz. The Renew Europe group in the European Parliament is the champion of media freedom in Europe. Therefore, our MEPs call upon the Greek authorities to resolve the crime as soon as possible and bring the perpetrators to justice, since this unresolved murder casts a heavy shadow on media workers. We stress the urgent need for a Media Freedom Act that will guarantee media pluralism and independence.
Renew Europe also remains very concerned about the overall backsliding on the rule of law and fundamental rights in Greece. The government are exercising illiberal practices that have very little to do with European values and principles. Our MEPs call on Prime Minister Mitsotakis to redress the situation of media freedom, wiretappings, corruption, transparency and the rule of law.
Renew Europe MEP Georgios Kyrtsos (Greece), said: "Greece remains the only EU member state where a journalist has been assassinated without the authorities being able to find the culprits and where no official information has been given to the public about the progress of the investigation. We cannot let it be - answers are needed. A free and independent media landscape where journalists can abduct their work safely is a central pillar for any healthy democratic society. The Greek authorities must speed up the investigations to resolve the crime and bring the perpetrators to justice."
Sophie in 't Veld (D66, Netherlands), the group's coordinator in the European Parliament's Committee on Civil Liberties, Justice and Home Affairs, and leading the recent EP to mission to Greece concluded: "The shocking situation in Greece follows the standard playbook of rule of law backsliding. The EU's reaction cannot be too little too late, as it often was in the past. The Parliament should take the lead here as a priority matter. Protection of the rule of law must take precedence over protection of partisan interests. We cannot kick the can down the road when it is about our core values."