Renew Europe sets final course for carbon neutrality by 2050 without leaving anyone behind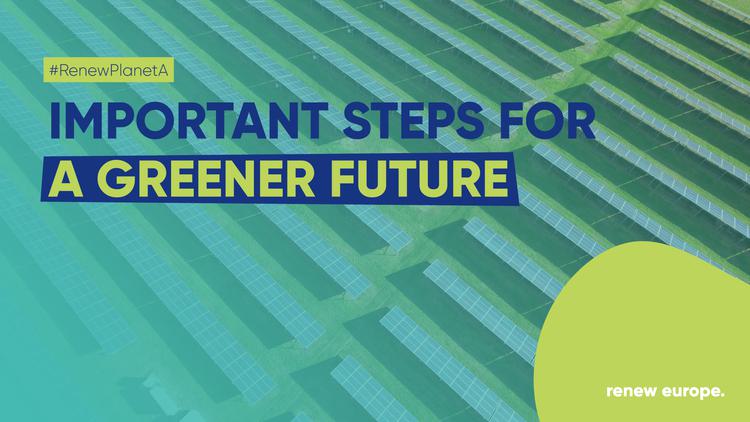 Renew Europe welcomes the European parliament's clear endorsement of some more building blocks of the 'Fit for 55' package, including the revised EU emission trading system (ETS), the creation of the world's first carbon border adjustment mechanism (CBAM) and the establishment of a social climate fund to ensure that the most vulnerable stay on board when the green transition reaches cruising speed. The Renew Europe group has long campaigned for a Carbon Border Adjustment Mechanism, a more effective ETS and supported a social climate fund so no one is left behind. We are committed to the goal of climate neutrality by 2050, and in the run up to that, reducing greenhouse gas emissions by more than 55% by 2030.
A robust, comprehensive ETS will accelerate the decarbonisation of our economy as the share of emissions covered by carbon - pricing will rise from 40% to 75% and the industries covered by a strengthened system will now reduce their greenhouse gas emissions by 62% by 2030 compared to 2005. Carbon pricing will now also be fully implemented in the shipping and aviation sector. Thanks to the efforts by Renew Europe, ETS revenues will now be fully used to support the green transition. Around 50 billion euros in resources will become available for climate innovation and the upscaling of green technologies across Europe, which will serve to boost the transition and to develop sustainable new jobs; this corresponds to Renew Europe's vision on an innovative and vibrant economy. The extension of the ETS to new sectors will create new incentives for decarbonisation, but will also come with proportionate safeguards to avoid any unwanted negative socio economic effects.
What applies to European industries, should also be equally valid for foreign competitors. Therefore, Renew Europe is pleased that CBAM is for the first time ensuring fair treatment between our companies, which pay a carbon price in Europe, and their foreign counterparts, who do not. By introducing a carbon price on the import of goods, we can push to combat climate change worldwide while preventing our industries from moving abroad as measures have been taken to protect businesses and people's jobs in Europe.
The Renew Europe group also welcomes today's final vote in plenary on the creation of the Social Climate Fund, another key component of the 'Fit for 55' package. With the creation of this Social Climate Fund, up to 86.7 billion euro, we rest assured that in particular the most vulnerable households, transport users and micro-enterprises who are facing higher energy bills, transport costs, or energy-efficient related investments directly resulting from the expansion of the emissions trading system (ETS), can count on concrete financial support, so everyone is on board when Europe sets sail to a carbon – neutral society.
Emma Wiesner (Centerpartiet, Sweden), Renew Europe shadow rapporteur on ETS, declared:
"A sharpened, expanded and updated climate tool – our most powerful tool to reduce emissions to this date – is now a reality. Renew Europe was at the forefront during the negotiations, constantly pushing forward for a more ambitious system, providing the necessary solutions and compromises. The result is something we all should be very proud of."
Nils Torvalds (Svenska Folkpartiet,Finland),Renew Europe shadow rapporteur and ENVI coordinator says on the CBAM file:
"With the introduction and implementation of a carbon border adjustment mechanism on expected major carbon leakage sectors, the EU is taking another historic step towards global decarbonization, while ensuring an equal playing field for clean industries, both inside and outside the EU."
MEP Marie-Pierre Vedrenne (Mouvement Démocrate, France), Renew Europe shadow rapporteur on the Social Climate Fund, stated:
"Today our message to Europeans citizens is clear: with the Social Climate Fund we will support the most modest, our craftsmen, our very small businesses. There can be no strong climate ambition without standing by the most vulnerable. We are moving forward on our two objectives: carbon neutrality and social justice. Europe will be there with concrete measures".