Russia must stop committing war crimes and immediately return abducted Ukrainian children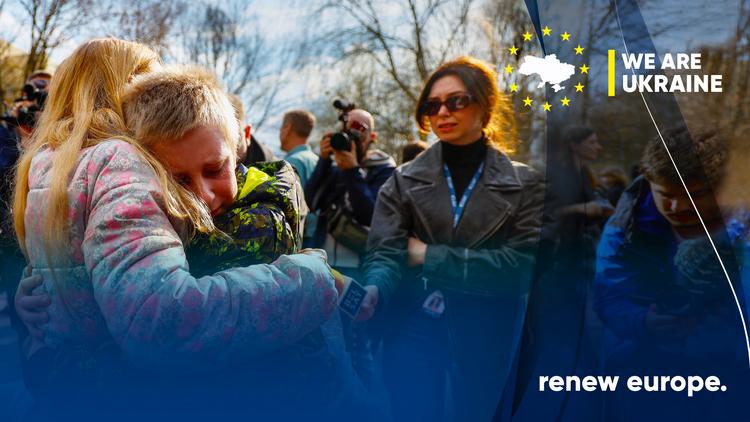 The Renew Europe Group in the European Parliament strongly condemns the Russian Federation's actions and war crimes committed in Ukraine, including and in particular the forced deportation of Ukrainian children and calls on Russia to fully abide by its obligations under international law and immediately return them to Ukraine.
Tens of thousands of Ukrainian children were interrogated, detained, and forcibly deported to Russia, being deliberately separated from their parents by the Russian authorities or abducted from orphanages.
Both Russian President, Vladimir Putin and Presidential Commissioner for Children's Rights, Maria Lvova-Belova, must be held accountable for these war crimes, following the ICC's arrest warrants issued on their names.
Speaking during today's plenary debate on this matter, Renew Europe MEP, Petras Auštrevičius (Lithuanian Liberal Movement), shadow rapporteur on Ukraine, said:
"The Russian occupation authorities have kidnapped and fraudulently deported 20 000 Ukrainian children. Personal stories of these children, names and identities are being erased with the aim to turn them into Russian citizens. The EU and the international community must use all possible means to locate, identify and return Ukrainian children to their families, as well as to their homeland, Ukraine."
MEP Hilde Vautmans (Open Vld, Belgium), Renew Europe Group's coordinator in the Foreign Affairs Committee, added:
"It sickens me that Russia has deported so many innocent children from Ukraine. We know the brutal facts of Russian officials forcing young children in re-education camps to "russify" them. Now, it is really important that we get the children home safe where they belong, with their families. I urge the Commission, the Council and the EEAS to do everything in their power to make this happen."