Renewable Energy Directive: new targets ensure EU´s energy independence and lay the groundwork for a climate-resilient Europe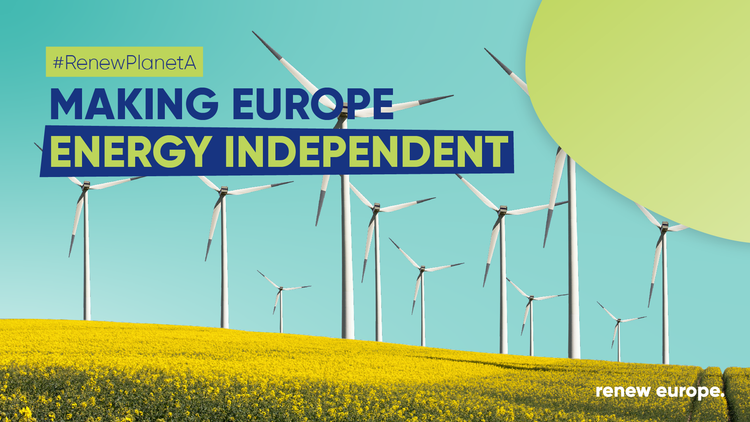 The Renew Europe Group welcomes today's plenary endorsement of the revised Renewable Energy Directive (RED). This is one of the cornerstones in the "Fit for 55 package" to achieve the Union energy and climate goals, a better energy system integration and sustainability criteria for bioenergy, as well as laying the foundations to make climate change a future energy opportunity.
MEP Christophe Grudler (Mouvement Démocrate, France), Renew Europe's shadow on Renewable Energy Directive, declared:
"In 2021, only 21.8 % of the energy consumed in the EU was from renewable energies. This is far from enough. This is why we defended new ambitious objectives to accelerate our efforts in all types of renewables all over Europe. The story of this legislation is a success story because it allows us, firstly, to place our continent as a global leader in decarbonisation, which guarantees our energy security against Russia and, secondly, it lays the foundation to make climate change an opportunity and make Europe a climate-resilient player, especially relevant in a year when the planet has experienced the highest temperatures in its history".
At a glance:
We're setting a new target: 45% renewables in our energy mix by 2030 (42,5% binding). This enhancement will cut greenhouse gas emissions and will significantly reduce dependence on fossil fuels imports, particularly relevant in the context of the recent energy crisis triggered after Russian aggression against Ukraine.


Today's agreement, backed by the plenary, introduces specific renewable energy goals for sectors that are major greenhouse gas emitters, such as transport and residential heating and cooling systems. These are landmark achievements in our fight against climate change.


Additionally, Renew Europe successfully pushed for the reclassification of Fuels of Non-Biological Origin (RFNBO) as renewables, opening the door for a decarbonized European industry that remains competitive on the global stage.


Our robust negotiations have ensured the inclusion of demand-flexibility measures and set a benchmark 5% target for emerging renewable technologies. These include innovative, climate-resilient technologies like osmotic energy and solar electric vehicles.


Renew Europe has also spearheaded initiatives to create a sustainable, leading, and competitive hydrogen market in Europe.


Finally, our political group has been a strong advocate of streamlining administrative processes and overcoming permitting obstacles at both the European and national levels. This will reduce the time it takes to install renewable energies.