Net Zero Industry Act: it's time for more cleantech production in the EU!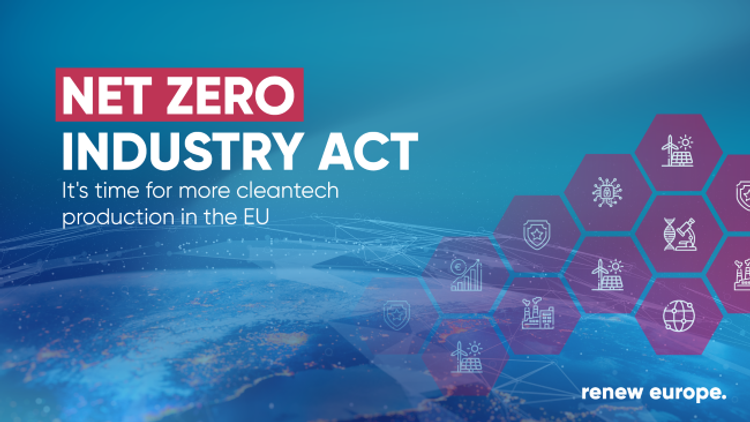 The Renew Europe Group welcomes today's endorsement by the Committee on Industry, Research and Energy of the report on the Net Zero Industry Act (NZIA). It lays strong foundations for the deployment of a truly European cleantech industry that is able to compete globally and contribute to strengthening our open strategic autonomy. In the face of anti-competitive practices and massive subsidies from China and the United States (IRA), the EU underlines that subsidising is no panacea and is committed to working on the competitiveness of the playing field to keep the industry on European soil while achieving its energy and climate ambitions.
MEP Christophe Grudler, (Mouvement Démocrate, France), Renew Europe's Shadow on NZIA, declared:
"If we want our climate transition to succeed, we need to drastically expand our EU production of clean technologies. The Net Zero Industry Act will help us achieve this by facilitating permits and supporting our innovative industries. Strengthening our industrial sovereignty by producing more solar panels, wind turbines, electrolysers, SMRs or batteries in Europe, that is our goal."
The agreement includes key stakeholder demands such as much faster and simpler permitting process for net zero industries (6 to 9 months max), one of the major hurdles for industries to settle in Europe, and a broader scope of technologies considered clean and contributing to decarbonisation.
Our group advocated for strong support for competitiveness, with greater inclusion of the needs of SMEs; from reducing the administrative burden to facilitating the process of directing and tying EU funds – existing and new – towards skills and investments in deep and digital technologies, namely via STEP. Finally, the text paves the way towards greater coherence in the regulatory framework for carbon storage and insists on the role of innovation in clean technologies.