Net Zero Industry Act: ready for a real boost for cleantech production in Europe!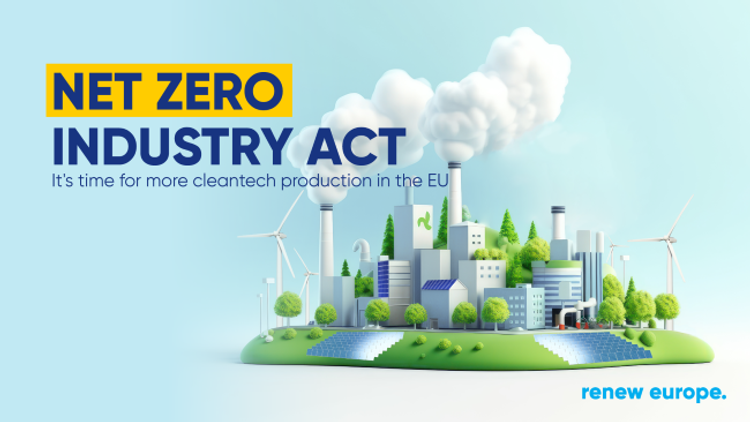 Renew Europe played a critical role in shaping the report adopted today on the Net Zero Industry Act (NZIA). We believe the EU Green deal will not succeed without strong EU industries. This new regulation should lay strong foundations and incentives for European reindustrialization in cleantech and, together with the Critical Raw Materials Act, paves the way to European industrial sovereignty. Clear and predictable permit processes and administrative support, as well as public interest status, will encourage all industries contributing to decarbonisation to choose Europe for their next investments. We have also made sure that public procurements will be a strong lever where resilience, sustainability and reciprocity should become the guiding principle. In the face of anti-competitive practices and massive subsidies from China and the United States (IRA), the age of innocence is over.
MEP Christophe Grudler (Mouvement Démocrate, France), Renew Europe's shadow on NZIA, declared:
"If we want our climate transition to succeed, we need to drastically expand our EU production of clean technologies. The Net Zero Industry Act will help us achieve this by supporting our innovative industries and facilitating permits (6 to 9 months max), one of the major hurdles for industries to settle in Europe. Strengthening our industrial sovereignty by producing more solar panels, wind turbines, electrolysers, nuclear technologies, SMRs or batteries in Europe, that is our goal."
Through its leading role on the NZIA, Renew Europe also managed to push for greater inclusion of the needs of SMEs; from reducing the administrative burden to facilitating the process of directing and tying EU funds - existing and new -, along with the creation of ambitious European skills academies, with learning programmes on net-zero technologies adapted to the needs of workers. Preparing workers for the labour market of today and tomorrow, reskilling and upskilling them in the age of the green and digital transitions is key to fight unemployment, enhance our Union's competitiveness and increase our industrial sovereignty.
MEP Marie-Pierre Vedrenne (Mouvement Démocrate, France), rapporteur on the opinion issued by the Committee on Employment and Social Affairs, which had exclusive competences on NZIA, added:
"Without a skilled EU workforce on net zero technologies, there will be no reindustrialisation and no open strategic autonomy. Boosting the budget for the net zero academies contributes to improved training opportunities for individuals and enhanced global competitiveness for our companies. Renew Europe is a strong advocate for the introduction of a mandatory social criteria in net zero industry projects and public procurement. This commitment aims to champion European companies and promote quality jobs that strive for equality and social justice. This is our first step for a buy European act".
Finally, the text clears the way towards greater coherence in the regulatory framework for carbon storage and insists on the role of innovation in clean technologies with high environmental standards.
MEP Erik Poulsen (Venstre, Denmark's liberal party), Renew Europe's shadow on the opinion issued by the Committee on Environment, Public Health and Food Safety, which had exclusive competences on NZIA, stated:
"EU needs to accelerate the production of clean technologies such as wind turbines, energy efficiency and bio-based technologies to strengthen the competitiveness of net-zero technologies manufacturing in the EU. To succeed we need an ambitious framework with clear, predictable and faster permitting processes while ensuring environmental standards are kept".