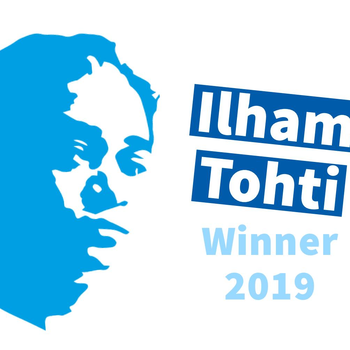 The Conference of Presidents of the European Parliament decided to award the Sakharov Prize for Freedom of Thought 2019 to Renew Europe Group's candidate, Ilham Tohti, a renowned Uyghur human rights defender, economics professor and advocate for the rights of China's Uyghur minority.
Following his efforts to foster dialogue and understanding between Uyghurs and Chinese for over two decades, he was sentenced in September 2014 to life in prison at the end of a two-day show trial.
Renew Europe Group President, Dacian Cioloș (PLUS, RO), welcomed today's decision and congratulated Ilham Tohti for becoming a laureate of the Sakharov Prize:
"Ilham Tohti fully embodies the spirit of the Sakharov prize, as he is a fearless voice fighting for human rights and fundamental freedoms. This is why I am satisfied that the leaders of the political groups, followed the proposal of Renew Europe and awarded the Sakharov prize 2019.
Renew Europe MEP, Phil Bennion (LibDems, UK), who advocated for Ilham Tohti's nomination, added:
"Although we are extremely happy that Ilham has been awarded the Sakharov Prize, we cannot even be sure that he will receive the news himself. He has been in solitary confinement since his imprisonment in 2014, and for the last 2 years has been denied visiting rights by the Chinese Authorities. Even his family has not seen him since 2017. This award not only reflects the courage of Mr. Tohti himself, but also the appalling treatment of the Uyghur people interned "re-education camps". I'm hoping that the Chinese authorities will allow a Delegation from the European Parliament to visit Mr. Tohti and I have already petitioned them to restore his families visiting rights"
Renew Europe MEP, Ilhan Kyuchyuk (Movement for Rights and Freedoms, BG),
"The decision of the European Parliament to award the Sakharov to the Uyghur intellectual Ilham Tohti is a major step for all the oppressed people in China. Ilham Tohti spent all his life trying to highlight the struggle the Uyghur people are facing in China and to live in ethnic harmony with the Han Chinese. Today it is clear that the European Parliament speaks as one voice with Ilham Tohti."
Note to editors:
The Uyghur people have been subjected to unparalleled repression by the Chinese government in the past two years due to their unique ethnic identity and religious beliefs. Since April 2017, over 1 million innocent Uyghurs have been arbitrarily detained in a network of internment camps, where they are forced to renounce their ethnic identity and religious beliefs and swear loyalty to the Chinese government.
For his work in the face of adversity, Ilham Tohti was awarded the PEN/Barbara Goldsmith Freedom to Write Award (2014), the Martin Ennals Award (2016) and the Liberal International Prize for Freedom (2017). Professor Tohti has been nominated for the 2019 Nobel Peace Prize.
END