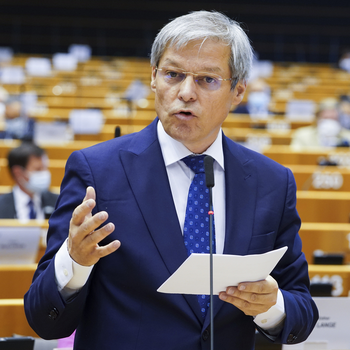 Commission President Ursula von der Leyen was invited to attend the Renew Europe Group meeting tonight to clarify questions about the vaccines management, especially in the light of recent difficulties. Renew Europe will also request a full and public debate with the Commission President on these issues during next week's plenary session.
President of Renew Europe Group, Dacian Cioloş, said after the meeting:
"Our discussion with the Commission President was clear and constructive and included the issue of the Irish/Northern Ireland Protocol and delays in deliveries. The vaccine roll-out is a positive step and EU solidarity is absolutely fundamental and the right way forward, but recent errors have added an unwelcome unpredictability at a deeply worrying time for millions of Europeans and businesses. Expectations are high. We have no margin for error in this process, not only does the credibility of the EU and in particular in European Commission depend on it but also the health and wellbeing of our citizens."
He continued, "We must make all possible efforts to increase the production and administration of vaccines and any delays should come with immediate and clear explanations. We need to build trust and confidence. The Commission only produced the AstraZeneca contract under pressure: we believe that all contracts committing taxpayer's money should be made public as soon as possible. The Commission and Pharmaceutical companies must change their approach and lift the veil of secrecy around vaccine contracts."
"This evening the Commission President responded to many questions, but nonetheless the European Commission must improve further its communication and provide daily updates to other institutions and to the press on progresses and challenges".
He concluded by raising the issue of the Irish/Northern Irish Protocol. "The process surrounding the triggering of Article 16 was opaque and potentially very damaging. There must be closer consultation with MEPs on the operation of the Withdrawal Agreement and a better awareness of its sensitivities."
"We are in a race against time. This vaccine management shows the added value of the European Union, and Renew Europe fully support the European approach. We are stronger together, we also need to be more efficient and agile together."
"Solidarity must also be stepped up. It is absolutely key to deliver vaccines to Europeans as soon as possible, but also to show solidarity at global level and in particular in our neighbourhood . Europe must take the leadership to promote a global coordination to produce vaccine, building further on the COVAX initiative."
ENDS
For more information, please contact
Luc Vernet
Mob : +32 471 27 92 62