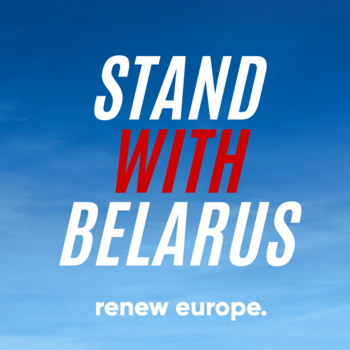 Today, on the International Day of Solidarity with Belarus, the Renew Europe Group in the European Parliament expresses its support to the Belarusian people in their fight for freedom and democracy by sending a strong message of solidarity to all those fighting for our fundamental values. In order to mark six months since the start of the pro-democracy protests in Belarus, opposition leader, Sviatlana Tsikhanouskaya, has called on all non-indifferent people to support Belarusian protesters, by joining events and rallies, releasing publications on the subject, displaying national Belarusian white-red-white colours, writing letters to Belarusian political prisoners, donating to solidarity organisations that help repressed compatriots and making posts bearing the hashtag #StandWithBelarus on social media.
President of Renew Europe Group, Dacian Cioloş (USR PLUS, Romania), applauded the initiative:
"On behalf of Renew Europe Group, I express our wholehearted solidarity with the courageous people of Belarus. Their fierce fight for freedom and against one of the world's most brutal regimes is an inspiration for all of us. Our group will continue to firmly stand by the people of Belarus and support, by all means, their struggle to make their voice heard and respected.
Lukashenka's regime must come to an end and all those responsible for the horrific human rights violations must be held accountable. The European Union and its Member States should step up their efforts to support the fight of the people of Belarus. Next steps should include tougher sanctions, increased coordinated action at international level regarding human rights violations and financial support for civil society organizations, political activists and independent journalists."
Renew Europe MEP, Petras Auštrevičius (Lithuanian Liberal Movement), the European Parliament's standing rapporteur on Belarus, added:
"I deeply admire the spirit and civic activism of Belarusian people, who despite repressions and violence, continue their rightful democratic demands and are already shaping the European future of Belarus. It is our duty to lend a hand of solidarity and support to our Belarusian neighbours and partners. Zhyve Belarus!"
ENDS
For more information, please contact
Goleanu Lucian
Tel : +32 2 283 40 20
Mob : +32 474 09 14 39