Vaccinate the world: Renew Europe urges the Commission to use the extra budget to deliver international vaccines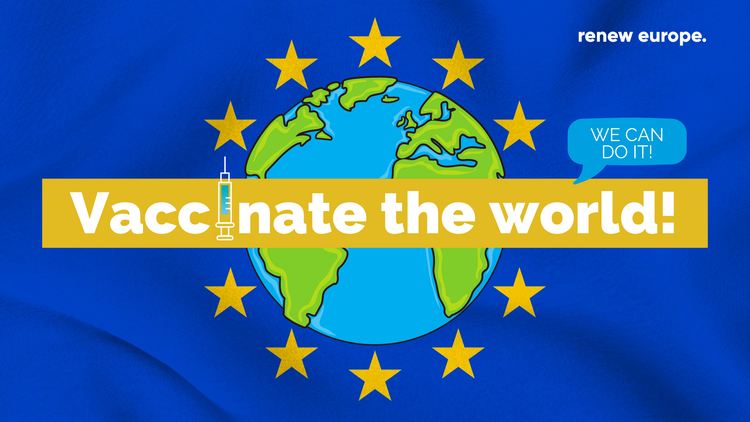 While the EU faces a new COVID-19 wave, we are reminded that vaccination is the only way to end the pandemic. 76% of the EU's adults are fully vaccinated. Comparatively, only 6% of the African population is fully vaccinated according to the World Health Organization (WHO). A huge and worrying gap between the two continents.
Since the day vaccines were approved, Renew Europe has been warning about the importance of providing vaccines to the whole world, especially to the most vulnerable countries. Renew Europe strongly supports COVAX, who's mission is to ensure vaccine equity across the world. Our group also urged Ursula von der Leyen, in a letter sent in September to increase the means to help vulnerable countries.
Furthermore, Renew Europe has been at the initiative of increasing the budget dedicated to the fight against COVID-19 across the world and funding of logistics, syringes and deliveries. It is a first step. However, Renew Europe believes that the EU should do more and asks to the Commission and Member States to increase their efforts.
Chrysoula Zacharopoulou, Renew Europe MEP and co-chair of the Shareholders Council of COVAX declared: "In the field, there is a lack of syringes, refrigerators, and a need for logistical planning to organise vaccination campaigns. Our doses risk being lost. I therefore call for more resources to be given as soon as possible to continue supporting COVAX. We must do much more and faster"
Luis Garicano MEP, Renew Europe coordinator in ECON committee said: "With the approval of the EU Budget today, we can celebrate very good news: we got the European Union to spend 1.400 million euros on vaccinating the world. But we need to do more. Member States have only delivered 23% of their pledges in 2021. We must accelerate the delivery of the doses if we want to defeat the pandemic before stronger variants emerge. Helping to vaccinate everyone on the planet is a moral duty. It is also the best investment." The EU and its Member states must remember that no one is safe until everybody is, everywhere.