Derogating from EU asylum law at EU's external border with Belarus disproportionate: punish Lukashenka, not his victims, says Renew Europe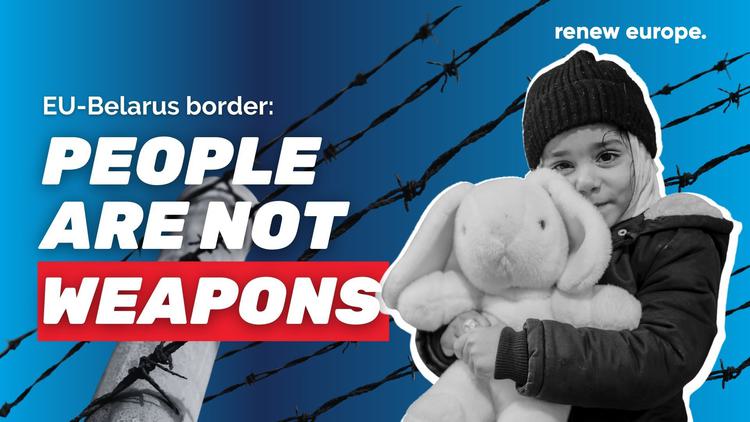 The orchestrated border crisis and exploitation of migrants to destabilise the EU by the Lukashenka regime must be met with tough measures against the regime and its supporters, not by derogating from the rights of trafficked human beings, who must be treated in accordance with international and EU law. This is vital to ensure the coherence of the EU's legal order.
Renew Europe is concerned by the disproportionate way the emergency measures presented by the European Commission derogate from the EU rules on asylum and calls for true safeguards of individuals rights. We must uphold asylum seekers procedural and fundamental rights in all circumstances, including in a situation of migratory pressure. National borders with Belarus are European borders. Efforts should be redoubled to forge a truly European asylum and Migration policy.
Sophie in 't Veld MEP, Renew Europe LIBE Coordinator said:
"The situation at the EU external borders with Belarus needs our collective attention, but does not justify the disproportionate decision to effectively suspend asylum law at the behest of national governments. The EU legal tool kit has enough instruments to tackle the situation. Commissioner Schinas and the Commission President should come to the Parliament's plenary to explain this perverse decision."
"We are in the middle of the negotiations on the Migration Pact, and such unilateral decisions by the Commission, catering to governments who are blocking any progress with a common policy, is totally the wrong signal."
Today, Renew Europe's MEP Róża Thun, Fabienne Keller, and Katalin Cseh are in the Polish border region with colleagues from other political groups to assess the humanitarian situation. The humanitarian crisis must be addressed immediately, as migrants trapped at the Polish border lack adequate shelter, food, water and medical care.
Renew Europe's MEP Róża Thun, Fabienne Keller, and Katalin Cseh, stated:
"The reality of the asylum seekers stuck between the borders is unimaginable. And still, NGO's and journalists are denied access to the border region. We regret that the Polish government last night passed a new law that de facto extends the state of emergency and enables the government to keep journalists and NGOs away from the zone. This denies the basic principles of the Rule of Law. Any derogatory regime in asylum shall be conditional to the respect of fundamental rights and the rule of law."