Renew Europe, the only political group of the European Parliament present at Europe's most important SMEs event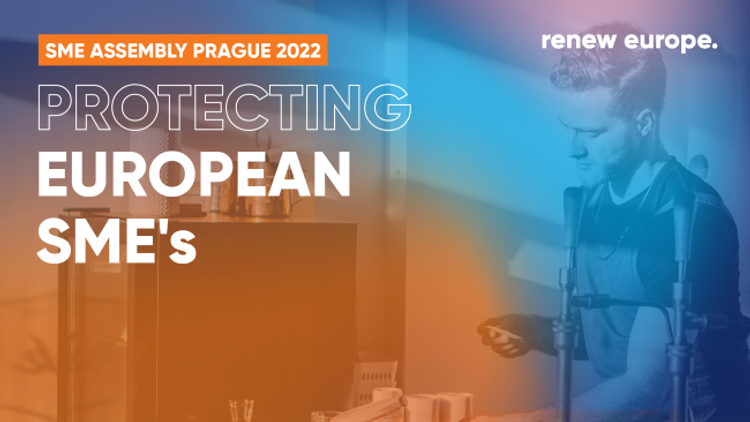 SMEs represent 99 % of all businesses in the EU, so they are a key driver for growth, employment and competitiveness of the European economy. Renew Europe, the third largest political group in the European Parliament, is fully aware of this and therefore could not miss the 2022 SME Assembly, the most important event for small and medium-sized enterprises in Europe, which took place in Prague from the 28th to the 30th of November. Renew Europe thus became the only political group of the European Parliament listening to and supporting SMEs at this renowned annual event.
Our political group was represented by an ad hoc delegation of five Members of the European Parliament, led by MEP Martina Dlabajová. For three days, Renew Europe members met with SMEs and entrepreneurs from all over Europe to learn about their challenges and needs, as well as to offer them our views and solutions to become more sustainable, digital and resilient.
No company is born big, and growth becomes even more complicated in the context of the current energy crisis, high inflationary pressures and supply chain bottlenecks. That is why Renew Europe has made it an EU priority to push for a predictable and SME-friendly legislative environment aimed at cutting red tape, better access to finance and simplified reporting processes.
MEP Martina Dlabajová (ANO 2011, Czech Republic), head of the ad hoc Delegation to the SME Assembly; chair of Renew Europe's SME Working Group; co-chair of the SME Intergroup, and Renew Europe coordinator in the Industry, Research and Energy (ITRE) committee, stated:
"The fact that Renew Europe is the only political group present at the SMEs Assembly is evidence of our unwavering commitment to the challenges and needs of SMEs in Europe, an essential landmark for European industry and economy. We are here to listen, to accompany, to understand and to be able to legislate according to their priorities and difficulties, especially after the Covid-19 period and the current energy crisis. It should be used to ease the administrative burden on SMEs, facilitate access to finance and ensure that bills are paid on time. The SMEs' survival and growth is Europe's survival and prosperity".
Note to editors
Renew Europe has established a permanent SME Taskforce within the Group to always consider European Commission proposals, legislation and other EU actions through the "SME lens", as well as prioritising and promoting SMEs in policy work.
Likewise, at Renew Europe initiative, we hold an annual debate in Parliament's plenary: the State of the Union of SMEs, in which our political group calls the Commission and the Council to account on the performance of the more than 25 million small and medium-sized enterprises (SMEs) in the EU-27.