The abuse of national vetoes in the EU must end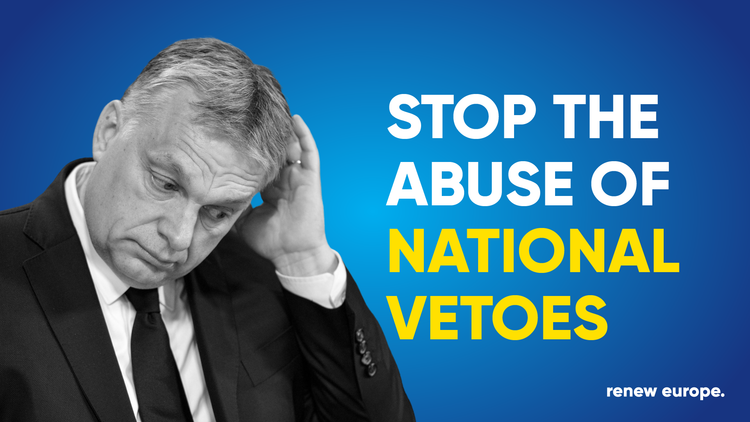 Following a request from our group, the European Parliament held a debate on the abuse of the veto right in the EU Council. For several years, we have witnessed the abuse of vetoes by certain heads of state and government, including the Prime Minister of Hungary, Viktor Orban, a specialist in this field. Recently, Viktor Orban has again shown himself to be a blackmailer, seeking to block 18 billion in aid to Ukraine, thereby holding hostage the Ukrainian people who are suffering from the Russian war of aggression. He has blocked the implementation of the deal on a global minimum corporate tax of 15% for large multinationals for months, thus preventing the achievement of an essential fair tax measure. This is unacceptable.
Fundamental issues have been, are, and will continue to be blocked in the Council because of the unanimity rule. This prevents us from moving forward, even though crises follow one another and require strong and rapid responses from the EU.
Unanimity, in many areas, is outdated and our group is committed to limiting its use within the EU. We reiterate our call for a Convention to reform our treaties, a wish expressed by the citizens at the Conference on the Future of Europe.
Guy Verhofstadt (Open VLD, Belgium), co-chair of the Executive Board of the Conference on the Future of Europe and Renew Europe MEP at the initiative of this debate, declared: "Unanimity rules are making a mockery of EU politics. Aid to Ukraine, sanctions on Russia, fair taxation, managing migration, EU funds and the rule of law… literally everything that matters to Europeans is subject to vetoes by one government or another. Our sovereignty is handicapped by our own outdated rules. We need to start a Convention and update the rulebook."