First meeting of the new subcommittee on public health: A leverage for health called "SANT"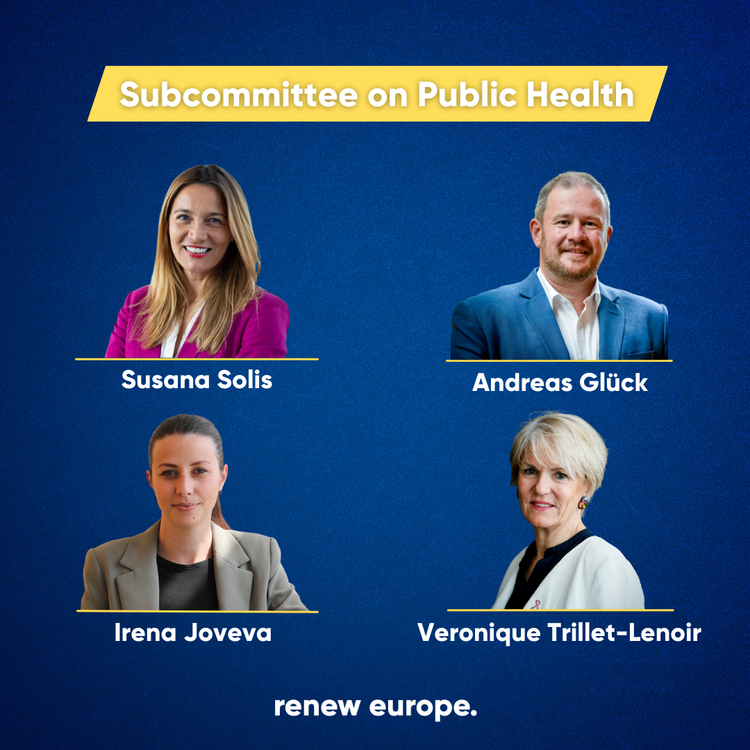 Renew Europe welcomes today's constitutive meeting of SANT, the new subcommittee on Public Health, as setting up this committee meets Renew Europe's longstanding ambition to work seriously towards the creation of a genuine European Health Union. With the creation of the sub-committee on health, the European Parliament now has a strong instrument in its hands that enables us to work towards an effective and coherent European public health policy for all our citizens.
Protecting the health of all Europeans is a top priority for Renew Europe. In order to ensure the full well-being and health of all our European citizens, it is imperative for the Renew group that the work of this subcommittee helps to ensure:
Proper preparedness, prevention and response to future cross border health threats.
Equal access to affordable and available medicines and treatments for all EU citizens.
Universal and equitable access to mental health services for every citizen in need.
Innovation of scientific research as the driving force to meet our medical needs.
Effective key actions are put in place for better prevention and early diagnosis.
Irena Joveva, Véronique Trillet-Lenoir, Susan Solís and Andreas Glück will serve in SANT on behalf of Renew Europe as full members, and Frédérique Ries, Ondrej Knotek, Erik Poulsen and Billy Kelleher as substitutes.
Irena Joveva (GS, Slovenia), second vice – chair of the SANT committee says: "I am honoured to have been elected vice -chair of the newly established SANT committee. Defending, improving, promoting and enhancing public health is one of our core responsibilities. In recent years, while our health systems have been put to the test, many of their insufficiencies and underlying problems have been highlighted. All of them will be addressed in Sant, a sub-committee that will play a crucial role in building a much – needed and genuine European Health Union, and I am delighted to be part of it."
Véronique Trillet-Lenoir (Liste Renaissance,France), coordinator for Renew Europe declares: "With the creation of a public health subcommittee, the European Parliament has a new working space to better respond to one of the major concerns of European citizens. This proves once again that a real European Health Union is being built."