Common EU rules needed to stop governments' illegal spying on citizens, PEGA report concludes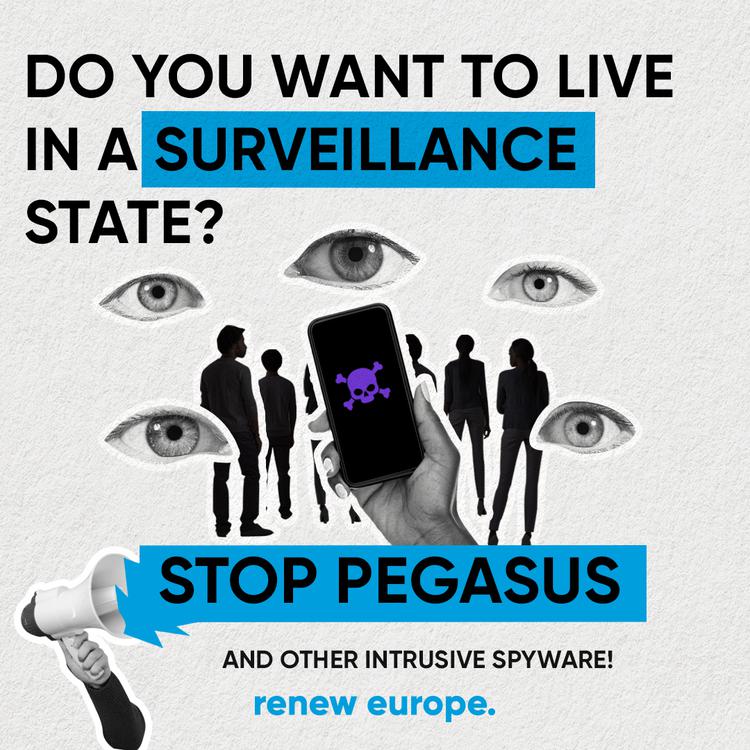 One year after the European Parliament's committee of Inquiry to investigate the use of Pegasus and equivalent surveillance spyware (PEGA) started its work, the committee today gave the green light to Sophie in 't Veld's report that uncovers the extent of EU governments' illegal espionage on citizens. The report puts forward first-of-its-kind recommendations to regulate eavesdropping via spyware at EU-level and hold governments responsible.
Sophie in 't Veld (D66, Netherlands), rapporteur for the PEGA report, emphasised:
" Spyware is a huge threat to our democracy. Some governments falsely invoke "National security", which in reality is an area of lawlessness where citizens are left unprotected. PEGA has found several instances of contraventions and maladministration, and many more very alarming cases. Others are flagrantly ignoring EU export rules. Despite the massive scale of the scandal, the European Commission and the European Council have not taken any action. Their inertia and silence makes them complicit. When EU democracy is at risk, Commission and Council cannot hide behind the fiction of national compliance anymore. They have to implement the recommendations of Parliament without delay."
The recommendations lay down common EU-wide legal conditions that Member States must fulfil before being allowed to use spyware, as well as the technical conditions that the spyware itself has to meet to be lawfully used. Further, the recommendations call for the delineation of national security and the need for proper common definitions of, for instance, what tools the secret service can use, for what purposes, and with which exceptions. Finally, the Renew Europe group managed to include a call for the urgent creation of an EU Tech Lab that provides support to the countries with approaching elections to avoid the risk of invasive spying affecting election outcomes.
Róża Thun und Hohenstein (Polska 2050, Poland), the Renew Europe Group's Coordinator in the PEGA committee, said:
"The European Union was created to extend levels of security, freedom and civil rights. Just before Europe Day, we adopted the PEGA report. It is crystal clear: EU governments that have abused their powers to spy on citizens for political purposes have undermined European democracy and our Rule of Law. Poland is not exempted. We therefore urge the Polish government and all the governments of the Member States, as well as the European Commission to take immediate actions to protect their own citizens from becoming victims of illegal surveillance."